When buying a used forklift be sure to evaluate your equipment options carefully. You can choose equipment based on factors like age, service hours, application history, and condition to either minimize your upfront costs or maximize quality in areas that are important to you.
For a brief overview of what to look for when buying a used forklift, watch the video below!
If you're trying to save money we recommend you look for equipment that is at least 5 years old. Any newer and you may end up paying closer to original value than you'd like.
A used forklift's hours are determined by both key hours and usage hours. Many forklift models will track both and are available on the dash.
Key hours are tracked whenever the key is turned on, including idle time. Which means they aren't a great representation of equipment usage since many areas of the machine are not in use during idle time. In contrast, usage hours provide a more accurate depiction of equipment use.
Usage hours vary by machine but can be tracked based on the operator and their actions. For example: when driving, using the pump, or lifting. In standing models the operator's presence can be calculated when the pedal is depressed. For sit-down units, usage hours may be tracked using a seat switch which is activated when the operator sits down.
How many hours should your used equipment have? When looking for used equipment, part-time use is best.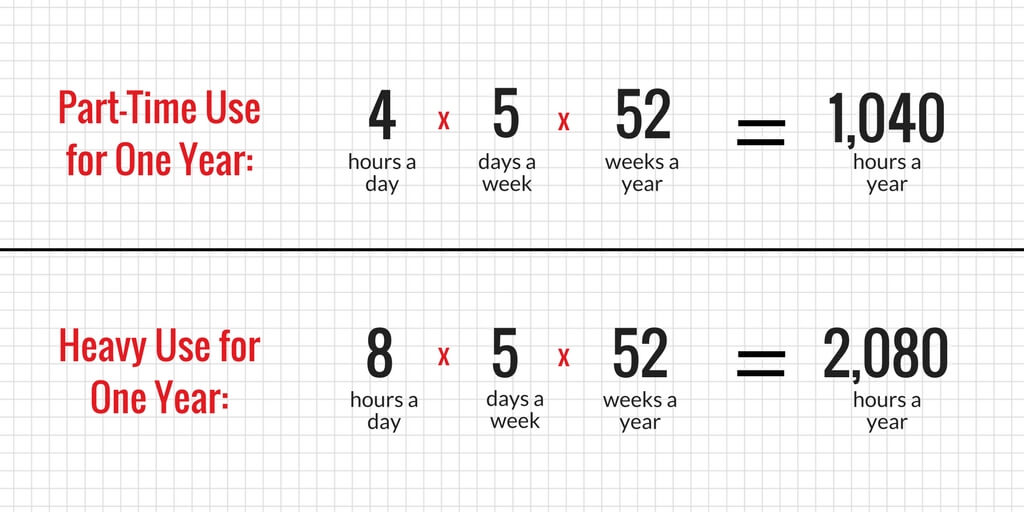 Similar to a used car's mileage, a used forklift's hours can be an indicator of wear and tear. The more hours on a machine, the more likely you are to find issues with the hydraulic motor and lines.
Forklifts that were previously used in an extreme environment will show the wear and tear from that application and you may end up paying more in maintenance costs. Previous working conditions you should be wary of include:
Proximity to salt water – causes increased corrosion on machine components
Extremely cold environments – seals on engine and hydraulics become more brittle with the cold
Extremely humid environments – moisture may reach electrical systems and increase corrosion
Heavy outdoor use – more exposure to the elements leads wear and tear like rust.
To determine the condition of used equipment we recommend you inspect it before you make a purchase. Ideally you should have a certified technician inspect the equipment as well. Major areas that should be inspected include:
Forks – check for damage like cracks, blades that aren't straight or blades with uneven heights.
Lift Chains – look for excessively large gaps between links. If you're concerned have the chains measured with a chain gauge – most technicians will have one.
Safety Elements - confirm that the seatbelt, lights and horn are functioning properly.
Mast - check for smooth operation without slippage. Make sure you check both with a load and without one.
Tires – examine the tires for chunking, radial cracks and tread depth. Poorly maintained tires can cause excessive damage to the forklift.
Engine - make sure it starts easily. For diesel forklifts, the exhaust should be minimal.
Leaks - check along the mast, tile cylinders, transmission and radiator after the forklift is warm.
USE CAUTION WHEN BUYING USED
Before committing to any used equipment, there are few areas that could indicate future challenges and additional costs.
Try to determine the previous maintenance history. Improper maintenance with previous owners can lead to unexpected maintenance costs for you. Often reputable forklift dealers will provide you with an equipment history including the application history and the maintenance history. If you can't get your hands on the maintenance history, leaking fluids or trouble starting the engine could be indicators of improper maintenance.
Avoid models that aren't in current production. You could have issues finding replacement parts at a reasonable price.
Using a reputable forklift dealer will reduce your risk when buying used. Some dealers may even offer a warranty on their used equipment.
Make sure to keep these considerations in mind and evaluate your options carefully when picking out your next used forklift.
Is buying a used forklift your best option? Compare the benefits of new and used forklifts.