If you're a forklift operator you know the universal rule of forklift propane tanks. The farther you are from the full tanks, the more likely you are to run out. Whether you're right next to the full tanks or on the other side of the plant, here's how to change the propane tank on a forklift.
Before you get started make sure you're wearing the proper safety equipment. At a minimum that means gloves made of neoprene or rubber, safety glasses, steel toes and a long-sleeve shirt. You might want to keep a leak detector handy too.
It's best to change your tank outdoors or in an area with lots of ventilation. It may sound obvious but don't smoke near the change-out area. Liquid propane is extremely flammable so check that you're far from any ignition sources.
Check out our quick video on changing the propane tank on a forklift:
Here's your step-by-step guide:
1. Keep the engine running.
2. Put the forklift in neutral.
3. Set the parking brake.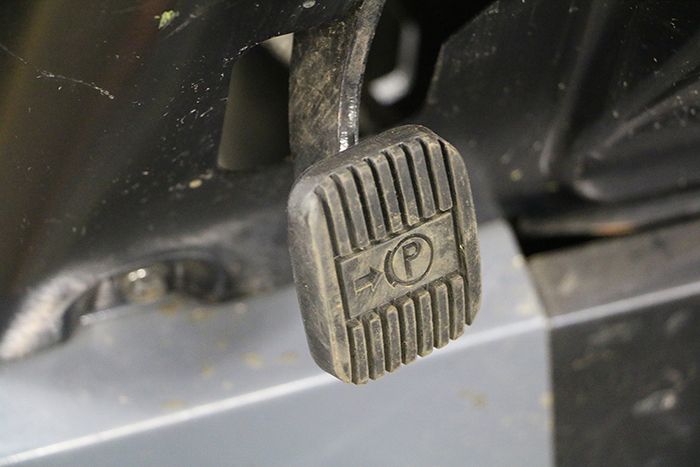 4. Lower the forks to the ground.
5. Close the propane tank valve by turning it clockwise.
6. When engine stops, try to start it again.
7. If the forklift won't restart turn the key to the off position.
8. Disconnect the LP fuel hose from the valve on the tank. No tools are needed for this.
9. Unlatch the LP tank from the bracket.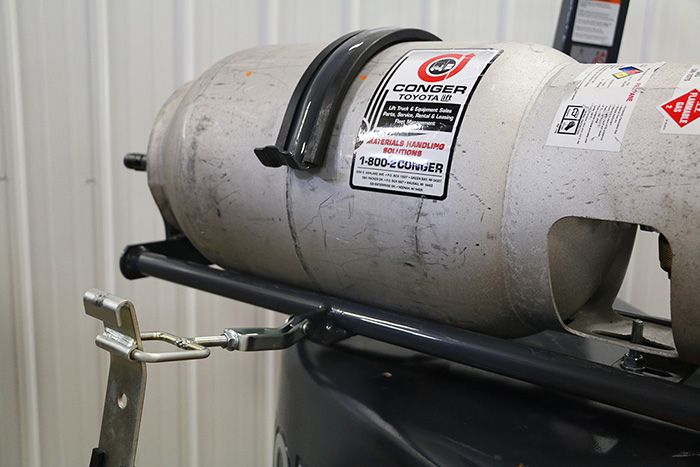 10. Remove the empty tank.
11. Grab your full tank. Lift carefully, a full tank can weigh between 50 and 80 lbs.
12. Align the new tank by placing it on the guide pin. The pressure relief valve on the tank should be pointed straight up.
13. Latch the tank into position with the bracket restraints.
14. Check that the valve on the new tank is in the off position. Close it by turning it clockwise, otherwise you could be sprayed with LP.
15. Reconnect the LP fuel hose.
16. Open the valve slowly by turning counterclockwise.
17. Listen, smell, and look for leaks. If you hear a rushing sound, smell rotten eggs or see white frost, you likely have a leak.
When you detect a leak, close the valve immediately and ventilate the area to prevent combustion. Make sure to tag out the defective tank.
Quick Tip: To inspect your tank or fuel lines for leaks you can use a solution of dish soap and water in a spray bottle. Spray the tank or fuel line. The solution will bubble if there is a leak. You can also use a leak detector.
As one last reminder, only trained and authorized personnel should change out LP tanks. It's usually done as part of your forklift operator safety training.
Now you know how to change a forklift propane tank so you can keep lifting.