In this post we're going to show you EXACTLY how to change your forklift propane tank the safe way.
In fact, this is the exact process that our lift truck experts use every single time to keep themselves and others around them safe.
So if you are looking for the right, and safe way to change your forklift's propane tank then you'll love this step-by-step tutorial on how to do just that.
!!! Before you get started make sure you're wearing the proper safety equipment. At a minimum that means gloves made of neoprene or rubber, safety glasses, steel toes and a long-sleeve shirt. You might want to keep a leak detector handy too.
1. Keep the engine running.
Leaving the engine running will allow for the rest of the propane to run out of the tank, making sure it's empty. This will relieve all pressure from the line.
2. Put the forklift in neutral.
You're putting this neutral so the forklift won't unexpectedly move. Relying on only applying the parking brake may not be enough to keep the forklift from moving.
3. Set the parking brake.
Setting the parking brake is an extra layer of security to the forklift moving after putting the forklift in neutral. Depending on your forklift manufacturer your parking brake may be foot operated, hand operated or in the case of some Yale lift trucks, an automatic parking brake applies when you get out of the forklift seat.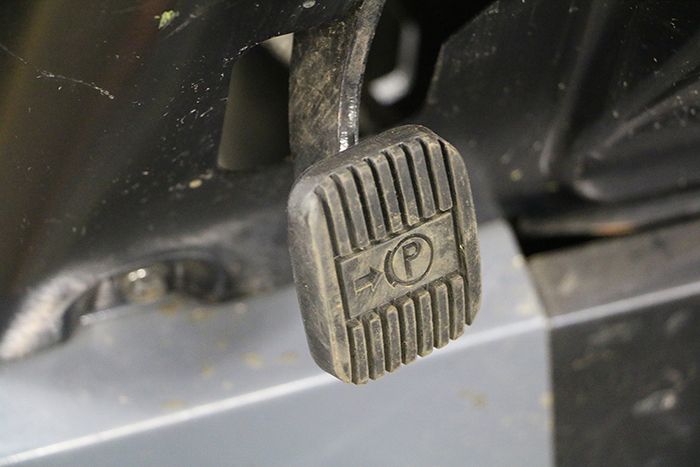 4. Lower the forks to the ground.
One additional layer of security here to make sure the forklift won't move. Also, you won't have the risk of unsuspecting people running into the forks if they were in the air.
5. Close the propane tank valve by turning it clockwise.
Shutting off the propane tank is crucial so you don't burn yourself if using a liquid propane tank.
6. When engine stops, try to start it again.
This step is your double check in knowing the propane tank is empty.
7. If the forklift won't restart turn the key to the off position.
This step is to make sure that all electronics of the forklift are shut down. A side benefit - you'll also save some battery life.
8. Disconnect the LP fuel hose from the valve on the tank.
No tools are needed for this. Simply unscrew it. Make sure to be wearing protective gloves.
9. Unlatch the LP tank from the bracket.
This may be a bit difficult to open so use your body weight if the latch is very tightly secured. Latch type may vary by forklift manufacturer.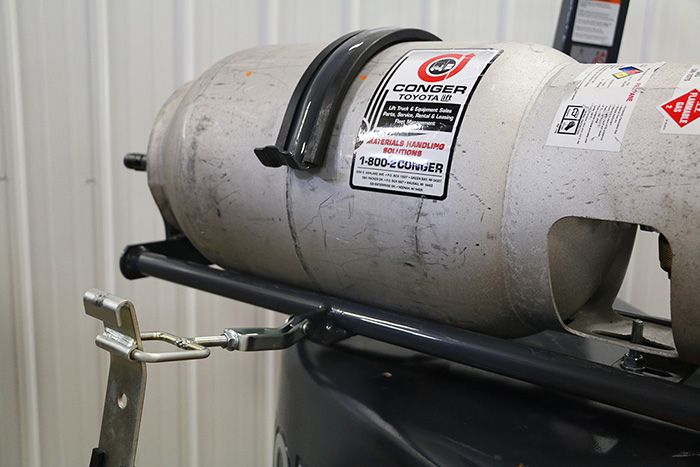 10. Remove the empty tank.
Use two hands here. The tank itself weighs roughly 35 lbs.
11. Grab your full tank.
Lift carefully, a full tank can weigh between 50 and 80 lbs.
12. Align the new tank by placing it on the guide pin.
The pressure relief valve on the tank should be pointed straight up.
13. Latch the tank into position with the bracket restraints.
Again, this may be hard to latch so use your body weight if necessary.
14. Check that the valve on the new tank is in the off position.
Close it by turning it clockwise, otherwise you could be sprayed with LP.
15. Reconnect the LP fuel hose.
16. Open the valve slowly by turning counterclockwise.
Generally you'll hear a soft hissing noise while opening the valve. Hearing this will let you know you have proper gas flow. The small hissing noise should stop between 1-3 seconds.
17. Listen, smell, and look for leaks.
If you hear a rushing sound, notice a smell similar to rotten eggs or see white frost, you likely have a leak.
When you detect a leak, close the valve immediately and ventilate the area to prevent combustion. Make sure to tag out the defective tank.
Quick Tip: To inspect your tank or fuel lines for leaks you can use a solution of dish soap and water in a spray bottle. Spray the tank or fuel line. The solution will bubble if there is a leak. You can also use a leak detector.
As one last reminder, only trained and authorized personnel should change out LP tanks. It's usually done as part of your forklift operator safety training.
Now We'd Like To Hear From You
There you have it:
Our 17-step guide on how to change a forklift propane tank safely.
Now we'd like to hear from you...
Which item on this checklist did you not know about before?
How are you going to approach the possibility of changing propane tanks?
Or maybe you have something additional or valuable to add to this step-by-step guide.
Either way, let us know by leaving a comment below right now.