Trying to sort through all the different floor scrubber brush types?
Then you're in the right place.
Because in this article, you'll learn everything you need to know about how to choose the right one.
You'll also learn about:
The different types of floor scrubbers
The different types of scrub decks
The differences between brushes and pads
How to maintain your scrub pads and brushes
Let's dive in!
First, let's get on the same page with exactly what equipment we're talking about: Automatic floor scrubbers.
So, what is an automatic floor scrubber?
Also called "auto scrubbers," "rotating brush floor scrubbers," "rotary brush floor scrubbers," or simply "floor scrubbers," automatic floor scrubbers are machines used to clean floors, remove small debris, and dry the floor in one pass.
The advantage of floor scrubbers is that they're powered, reducing the need for workers to manually clean the floors with mops, buckets, and brooms.
They're used mainly in commercial and industrial settings like:
Because automatic floor scrubbers are used in a wide variety of settings, they can work on many different floor types, such as:
Vinyl composition tile (VCT)
There are 3 types of floor scrubbers:
Upright
Walk-behind
Ride-on
Let's briefly go over each.
Uprights are the smallest type of floor scrubbers with cleaning widths between 8 and 14 inches.
The main advantage of upright scrubbers is that their small size allows for easier maneuverability.
Their other advantage is that they have low-profile designs, which allow them to lay flat and get under small spaces like chairs, desks, tables, and other hard-to-reach areas.
This makes them ideal for cleaning smaller areas such as those found in offices.
But they are not a great choice for cleaning large areas.
These are small-to-mid-sized auto scrubbers with cleaning widths from 13 to 34 inches.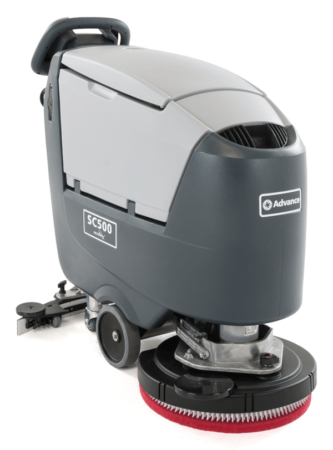 Most models have a powered cleaning deck and some have powered propulsion systems like you'd find on a self-driving lawnmower or snow thrower, allowing for less operator fatigue.
They are used for larger spaces that upright scrubbers wouldn't work in, like grocery stores, manufacturing facilities, and warehouses.
But they're not the best for large, open spaces like parking lots.
Ride-on scrubbers are the largest scrubbers with cleaning widths ranging from 20 to 48 or more inches.
They're built for larger and tougher cleaning tasks in areas that would take too long to clean with a walk-behind scrubber.
That includes places like warehouses, food and beverage distribution, large gyms, open hallways, and industrial complexes.
The main advantage of rider-scrubbers is that the operator sits on the machine, which minimizes fatigue and improves productivity.
Their main drawbacks are that they are the most expensive type of floor scrubber and they're not ideal for getting into small spaces.
We're now clear on the different types of floor scrubbers.
But for each type, you can have a variety of scrub decks.
What are scrub decks exactly?
They're the component of the scrubber that actually does the scrubbing.
The pads or the brushes are installed within the scrub deck and attached to motors that turn them.
And depending on the manufacturer's offering, you can have your choice of 3 scrub decks:
Let's go a little bit deeper into the differences between each scrub deck and how to choose the right one.
Disc scrubbers are the most common type of scrub deck and are most often found on walk-behind scrubbers.
With this scrub deck, you have exactly what the name suggests: It's a disc-cleaning apparatus that uses either pads or brushes (which we'll get into in the next section).
The pads or brushes spin at a high rate of speed while water shoots between them.
And it uses that combination of spin and solution to loosen the dirt on the floor.
Compared to cylindrical decks, disc scrub decks are:
Easier to change the brushes or pads
Not ideal for floors with debris, as you can easily clog the machine and ruin components if you don't clear the debris beforehand
Applications for Disc Scrub Decks
These types of scrub decks are ideal for heavily-soiled floors and for cleaning tough stains.
They're also useful for shining floors, cleaning tile, stripping wax, and removing scuff or surface marks.
The reason is that they have greater down pressure compared to cylindrical decks.
What is down pressure?
It's simply the amount of force that the machine exerts on the floor while scrubbing.
And greater down pressure means better scrubbing and cleaning.
Thus, disc decks are good for retail outlets, schools, hospitals, and other facilities with high traffic that causes a lot of scuff marks.
A cylindrical brush floor scrubber has brushes that run horizontally under the scrub deck.
Some designs feature a single brush, while many others have dual counter-rotating brushes, which allow for more aggressive cleaning from 2 directions.
Pros of Cylindrical Scrub Decks
Eliminate the need to pre-sweep - except for very large debris

Combine sweeping with scrubbing in a single pass
Cons of Cylindrical Scrub Decks
More expensive than disc decks

Have higher maintenance costs

Only accept brushes - not pads
Applications for Cylindrical Scrub Decks
Because there's no pre-sweeping required, cylindrical scrub decks are a good choice for large spaces with lots of debris like parking garages, industrial plants, and warehouses.
Besides that, cylindrical scrubbers are great for cleaning uneven surfaces, such as those with grout lines and rough textures.
This is because the brush bristles have a greater reach and can get into cracks and crevices.
Also called "orbital scrub decks," these are a new type of scrubbing technology.
They use a rectangular scrub head that moves in a rapid back-and-forth motion (at 2,000 RPM versus 300 RPM for disc and 600 to 800 RPM for cylindrical decks).
Pros of Oscillating Scrub Decks
Fast oscillating motion allows for a more aggressive scrubbing action

Can easily reach into corners and other high hard-to-reach places that cylindrical or disc scrubbers can't

Use less water than other scrub decks - up to 70% per Factory Cat
Cons of Oscillating Scrub Decks
More expensive than disc and cylindrical decks

Only accept pads - not brushes
Applications for Oscillating Scrub Decks
Because of their more aggressive cleaning action, orbital decks are often used to strip flooring without using chemicals, along with other general cleaning purposes.
Moreover, they're very versatile and can work on many different floor types, including vinyl, tile, and concrete.
We mentioned pads and brushes in the previous sections.
Now, let's dig deeper into the differences between these two.
After all, if you're not getting good results from your floor scrubber, it may be because you have the wrong pad or brush.
The first thing to know about pads is that only disc and oscillating scrubbers can use them - cylindrical scrubbers cannot.
The second thing to note is how pads connect to the scrub deck.
This requires a pad driver.
Within the pad driver, the pad simply sits on short bristles which are not used for scrubbing, but instead to hold the pad in place.
A nut is then secured over the pad to hold it in place in the pad driver.
Pad driver design allows for easy changing of the pad once it's worn

Pads are 2-sided allowing for longer use by flipping the pad over once one side is worn

More gentle on the floor than brushes
Pads require pre-sweeping

Not regularly changing the pad can cause damage to the floor once it's worn through

Only suitable for smooth floors without crevices, cracks, and grout lines, because the pad is flat and can't reach into those places
Pads are great for cleaning up dirt like stains, spills, and dust - so long as the floor doesn't have too much debris.
Furthermore, pads are best suited for flat, smooth surfaces like finished floors, vinyl composite tile (VCT), tile, marble, and terrazzo.
There are hundreds of different types of pads made of many materials, including:
So, how do you choose between the different pad types?
The main consideration is how aggressive of cleaning you need.
Fortunately, pad manufacturers make it easy by using colors that correspond to the pads' aggressiveness.
The rule of thumb is that the lighter the color, the softer the pad, and the darker the color, the more aggressive it is.
Let's go through the most common pad types, in order of aggressiveness.
White pads are also called "white polishing pads" because they're the softest and least aggressive.
They help remove dirt and soft scuff marks with light pressure for minimal dulling of the floor finish.
In general, white pads are used to clean and polish delicate floors that you don't want to scratch, such as waxed or high-gloss floors.
This makes them ideal for marble, terrazzo, VCT, and wax floors.
Red pads are the most common pad type and are used for general, everyday cleaning.
Red pads are mildly-aggressive and great for removing stains and scuff marks.
Generally, red cleaning pads won't damage flooring unless used on one spot for too long.
Blue pads are more aggressive than red pads and thus better for tougher stains.
They're generally used for heavy-duty scrubbing and top-coat removal before recoating.
Also called "green turf pads," green pads are used for taking off the top coat of finished floors without stripping them.
Black pads are the most aggressive brush type.
They're used for cleaning heavily-soiled floors, stripping finish (with the addition of a stripping solvent), and removing tough stains from concrete.
Electric floor scrubber brushes are best for uneven floors.
This is because, whereas pads just slide over the floor without reaching in, brushes can penetrate into the crevices because of the reach of the bristles.
Floor Scrubber Brush Types
Just like floor scrubber pads, there are many different floor machine brushes that you can choose from.
And also like pads, the type of brush that's best for you depends on the floor type and how much cleaning aggression you need.
The aggression, in turn, is based on the type of bristles the brush is made of.
So if you're wondering "what are floor brush bristles made of?" the answer is they can come in a wide variety such as:
Building off of that, here are the different types of floor scrubber brushes in order of their cleaning aggressiveness.
Nylon scrubbing brushes have the softest bristles.
This gives them great bend recovery, which makes them resistant to wear and thus increases their useful life.
In general, nylon floor cleaner brushes are very versatile and can be used on interior or exterior surfaces, as well as general cleaning on many floor types like textured floors, wood, tile, concrete, laminate, marble, and terrazzo.
Overall, nylon scrub brushes are best for cleaning floors that you don't want to scratch, such as those with a high-gloss finish.
The drawback of nylon brushes is that they're more expensive compared to poly brushes.
Also called "black poly" or just "poly," these brushes are an excellent all-around general cleaning brush.
They're the most popular scrub brush and tend to come standard on most types of floor scrubbers.
Overall, polypropylene brushes are best used on uneven surfaces where you need to reach into small crevices like grouted tile.
But they're also a great tile floor scrubbing brush and scrubbing brush for concrete, along with vinyl, terrazzo, ceramic, epoxy, and linoleum flooring.
Poly brushes are cheaper than nylon and they're also more durable and aggressive.
Sometimes called "scrub grit" or "strip grit" brushes, gritted brushes have short, thick bristles made of polypropylene but with the addition of silicon carbide.
This gives them a sandpaper-like texture that makes them an excellent stripping brush for floors by enabling more aggressive cleaning by taking better hold of dirt and grime than regular poly or nylon brushes can.
There are several different types of gritted brushes that vary by their aggressiveness.
This is based on the bristles, which get thicker as the brush gets more aggressive:
Light-grit scrub brushes are the least aggressive type of gritted brush.
And they're also likely to be the most aggressive brush that you'd use.
These are used for cleaning stains and heavy build-up on rough and resilient floors like terrazzo, concrete, and non-slip epoxy finishes.
You do need to be careful with light grit brushes, however, because if you use them on glossy surfaces, it will remove the gloss.
Heavy grit brushes are the most aggressive type of scrubber brush and are designed for cleaning the heaviest buildup and stains on floors.
For example, they are a good choice for use on concrete, especially to remove grease or grime that's stuck in the pores.
They're also great for stripping the finish or sealant on ceramic and porcelain tile floors and for cleaning uneven floors or irregular terrains, such as floors with grates or drains.
Because of their robustness, floor stripping brushes are the most expensive brush that you'll find.
As with anything, if you want your scrub pads and brushes to last longer, you'll need to take care of them.
Besides improving their longevity, keeping up on maintenance helps pads and brushes clean better and save you money.
For pads, we've already said they should be flipped over once one side has become too worn.
Brushes, on the other hand, require a bit more effort to maintain.
First of all, you should clean your brushes after each use.
This includes removing any dirt, finish stripper, wax, or any other material that might be wrapped and stuck in the brush.
Then, use hot water to wash the brush and hang it to dry.
Second of all, you should rotate your brushes front to back once per week.
This is because, during use, the bristles will bend over just like on a push broom.
And when the bristles bend over, it causes the brush to lose its cleaning effectiveness.
But once you reverse the brushes, you regain that effectiveness.
This goes for both cylindrical brushes and disc brushes.
When Should You Replace Your Brushes?
For disc brushes, you should check the wear indicator.
This will tell you when to replace it.
For cylindrical brushes, you should replace the brushes once the bristle is worn down to about a 1/2 inch.
Otherwise, you risk compromising any cleaning effectiveness and damaging the floor.
There you have it: Everything you need to know about floor scrubber brush types.
Now, we'd like to turn it to you.
Do you currently have a floor scrubber?
What type of brush or pad are you considering using?
Please share with us in the comments section.