Knowing forklift aisle widths is an important aspect of warehouse setup and organization.
After all, smaller aisles can help you free up a lot of space in your warehouse.
So, this article is all about how to calculate your minimum forklift aisle widths.
In it, you'll learn:
The different warehouse aisle designs
What types of forklifts can work with each aisle design
How to calculate minimum aisle widths for your operation
Let's dive in!
Getting as much product into your existing space as possible is the name of the game in warehousing.
But with this goal comes some challenges.
One major challenge is that floor space is expensive.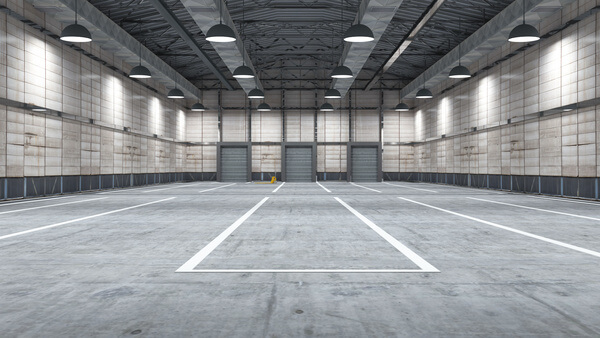 And that makes expanding horizontally difficult, if not impossible.
So what's the solution to expanding your storage capacity without breaking the bank?
Answer: Narrowing your pallet racking spacing.
In fact, reducing your warehouse aisle width from 12 feet to 8 feet can help you gain an extra 15 to 20% of storage area!
If you're not familiar with the different aisle widths available for warehouses, let's go through them.
That way, you'll have a clearer idea of what may work in your operation and how much space you can save.
Wide aisles (WA) are also known as standard or conventional aisles.
Most older warehouses have this style of aisle.
And that's mostly because they're the standard aisle width for forklifts.
So, what is the width of "wide" aisles?
Generally, they measure between 12- and 13-feet wide.
This makes them ideal for standard 48-inch pallets handled with counterbalanced forklifts.
Narrow aisles (NA) designs evolved for two main reasons:
The increased need for space and storage
Improved forklift designs that required less room for maneuvering
So, what qualifies as a "narrow aisle"?
Answer: Aisles that measure between 8- and 10-feet wide.
Compared to wide aisles, this design can free up as much as 25% of warehouse space.
But if you only have standard counterbalance lifts, you can't use narrow aisles.
That's because this type of aisle layout only works with specialty narrow aisle lift trucks.
Not sure what we mean by a narrow aisle lift truck?
Don't worry.
We'll cover that in the Common Forklifts and Their Dimensions section below.
You now know about narrow aisles, but what is a very narrow aisle?
Answer: They are aisles that measure 6-feet wide or less.
These aisles are a new concept in warehouse design that is just catching on.
And the reason for this newfound popularity is that using very narrow aisles can increase your warehouse floor space by up to 50%.
While this increase in space is appealing, there is a string attached...
Like narrow aisles, operating in very narrow aisles requires very narrow forklifts.
We'll cover what exactly those are in the section below.
We've covered the most common aisle widths in warehousing.
And we've mentioned that setting up your warehouse around these aisle widths requires having material handling equipment that can navigate them.
But we haven't gone into detail on what specific material handling equipment works in each aisle type.
So let's do that now.
The 5,000 lb. cushion counterbalance forklift is the most popular type of forklift used in warehousing.
And it also happens to be considered a "wide aisle forklift."
But what exactly does that mean?
It means that these forklifts require the most amount of space to safely navigate without hitting things.
As you may recall from the previous section, wide aisles are usually 12- to 13-feet in width.
And this corresponds exactly with wide aisle forklifts.
That's because these lift trucks generally require 12- to 13-feet of minimum aisle width to navigate (assuming they're handling standard 48-inch pallets).
Let's finally answer the question: What is a narrow aisle forklift truck?
Narrow aisle forklifts trucks are those that can operate in aisle widths of less than 10.5-feet.
This equipment typically consists of reach trucks.
That said, there are different kinds of reach trucks for narrow aisles.
Let's go through those different types.
Most reach truck forklifts are single-reach.
That is, they are only able to reach a single pallet deep into racking.
These types of reach trucks typically require a minimum aisle width of 8- to 9-feet.
Deep-reach forklifts, as the name suggests, are capable of reaching further into pallet racking than single-reach trucks.
To gain this extra reach, deep-reach fork trucks have extra-long pantomime mechanisms.
And while that's the case, these trucks still can fit within narrow aisles with 9- to 10-feet of space.
Very Narrow Aisle Forklifts
What is a very narrow aisle truck?
These are forklifts that can fit into aisles 6-feet wide.
Mostly, this style of forklift consists of order pickers and swing reach trucks.
Let's go through each of those.
These are also called swing-mast trucks.
That's because their masts swivel or turn 90 degrees to retrieve pallets from racking.
Because the mast itself moves, the body of the forklift doesn't have to.
And that's why these lift trucks are adept at working in very narrow aisles with only 5- to 6-feet of aisle width.
Order pickers aren't typically used to retrieve pallets from racking.
Instead, they're designed for manual picking.
That is, the operator uses the machine to travel both horizontally and vertically along aisles.
Then, they manually pick or place materials from or into the racking from a pallet located on the forks.
And because these trucks don't retrieve pallets from racking, they don't require much space for turning.
So, they can work well in very narrow warehouse aisles at 4- to 5-feet wide.
Now that you know the aisle widths available to you and the types of trucks that work in them, you might be wondering how wide should your warehouse aisles be.
We'll answer that in this section.
The Minimum Aisle Width Formula
As you might expect, we'll need to use a little bit of math to determine how wide do forklift aisles need to be.
But don't worry - it's pretty simple.
Here's the formula to calculate your minimum forklift aisle width:
Not sure what each of these terms means?
Let's go through them.
Imagine you're driving a forklift down an aisle of warehouse racking.
You have a pallet in the racking on one side that you have to retrieve.
How do you do that?
Of course, you turn at a right angle, place your forks under the pallet, lift it up, back out, and return to your original orientation.
Now, the amount of space you need to perform all those actions is called the "right angle stack."
To put it simply, the right angle stack of a forklift is the minimum amount of space required for the forklift to retrieve a pallet from storage without hitting anything.
Now, where can you find the right angle stack of your forklift (or a new forklift you're thinking of getting)?
Often, you can find it simply by googling.
For example, if we google "CLARK S25 right angle stack," we find it listed on the official CLARK website:
But the best way to find it is simply by contacting your local dealership and asking.
They'll have the most accurate and up-to-date information.
This is a pretty simple one.
The load length is the length of the pallet you're handling.
Most pallets are 48-inches long.
However, some industries use 36-inch, 40-inch, or 42-inch pallets.
So you'll want to take a tape measure to your pallets if you're not sure what length they are.
In addition, you'll need to make sure to take into account any overhang.
For example, let's say you handle oversized loads on a 48-inch pallet, where the load hangs over by 4-inches.
You'll need to add 4-inches to your 48-inch pallet, for a total load length of 52-inches.
It doesn't matter how precisely you calculate your minimum forklift aisle width if you don't allow some extra forklift clearance as a safeguard.
How much extra clearance?
The suggested rule of thumb for forklift clearance dimensions is at least one foot (12-inches).
By giving yourself this extra cushion, you can sidestep a lot of space issues when calculating your aisle widths.
An Example Minimum Aisle Width Calculation
Now that you know what each of the components of the aisle width formula is, let's go through an example calculation.
First, let's assume that we're using a Toyota 5,000  lb. cushion forklift (model 8FGCU25) in our example warehouse.
Second, let's say we've contacted our local Toyota dealership and confirmed that the right angle stack for this lift truck is 94.3 inches.
Third, let's say that we're handling 48-inch long pallets with no overhang.
And finally, recall that we'll add 12-inches of clearance as a "cushion" to ensure we have enough space.
Let's put it all together:
That equates to a 12.9-foot aisle width.
And that's all there is to calculating your minimum aisle widths!
There you have it: Everything you need to know about forklift aisle widths.
Now, we'd like to turn it to you.
Are you looking into narrowing your warehouse aisles?
What type of equipment do you currently have?
Do you have further questions?
Let us know in the comments section.