Ever wonder what types of forklifts are out there? Then this post is exactly what you're looking for!
First, we assembled 105 different kinds of forklifts from all walks of industrial life. After that, we grouped them by industrial lift truck category to make your browsing easier.
Simply click on the links to each category. You'll be able to see examples and review helpful information about each type of forklift.
Let's jump right in.
Add a header to begin generating the table of contents
Class I: Electric Motor Rider Trucks
3-Wheel Electric
3,000 lb. capacity
Three-wheel electrics are fast becoming one of the most popular types of forklifts. Because of their tight turning radius, operators can easily maneuver around crowded warehouses and production lines. Common industries of use include food/beverage and light manufacturing.
3,500 lb. capacity
The 3,500 lb. forklift uses the same body style as the 3,000 lb. The only difference is a slightly heavier counterweight, which gives the extra 500 lb. capacity. Otherwise, the forklifts look identical and can be difficult to tell apart.
4,000 lb. capacity
The 4,000 lb. 3-wheel uses a different, elongated frame than the 3,000 to 3,500 lb. models. The extra-long frame combined with a larger counterweight means this model can handle larger loads. Also, 4,000 lb. trucks use a heavier battery to counteract the heavier load on the forks.
4-Wheel Electric
3,000 lb. capacity
Like the base model 3-wheel forklift, the basic 4-wheel capacity is 3,000 lb. But the difference between the two types of trucks is that 4-wheels don't quite have the maneuverability of 3-wheels. You can often find the 4-wheel electric forklift hard at work in beverage plants.
3,500 lb. capacity
The 3,500 lb. 4-wheel electric forklift is very similar to the 3,000 lb. The battery is the same size, as is the frame. The only difference is a slightly heavier counterweight that gives the extra 500 lb. capacity to the truck.
4,000 lb. capacity
When we get to the 4,000 lb. truck, the frame changes. It becomes a little more robust and capable of handling larger loads.
5,000 lb. capacity
The 5,000 lb. electric forklift is much like its internal combustion cousin of the same size. A popular sized truck, it can be found in the paper, bottling, recycling, and food industries.
6,000 lb. capacity
A little bigger than a 5,000 lb. truck, the 6,000 lb. electric 4-wheel has a different frame and larger battery compartment. It also has a larger carriage. So, a more robust attachment can be installed to handle heavier loads.
6,500 lb. capacity
Almost identical to the 6,000 lb. 4-wheel, the 6,500 lb. truck has a slightly heavier counterweight. The battery is the same size, as are most other components on the truck.
8,000 lb. capacity
The 8,000 lb. electric 4-wheel is used in higher capacity operations. This truck is powered by either a 36 or 48-volt battery, with the latter allowing faster drive and lift speeds. Common industries of use include construction and building supplies.
10,000 lb. capacity
The 10,000 lb. electric truck is usually built on the same frame as the 8,000 lb. truck. The counterweight is a little larger to allow for the increased capacity.
12,000 lb. capacity
The 12,000 lb. electric is built on a larger frame than the 8,000 to 10,000 lb. trucks. Along with this increase in frame size, the truck also gets a larger battery and a class IV carriage.
Stand-up rider
Stand-up riders have the same maneuverability as a 3-wheel truck, but with a smaller footprint. This allows operators to squeeze into tighter spaces while still being able to turn. Common industries of use include light manufacturing and storage facilities.
Outdoor electric pneumatics
For applications that need or prefer to run electric trucks, but also need to work outside, the electric pneumatic is a solid choice. Foam or air-filled tires allow this type of forklift to handle rougher terrains, like blacktop and gravel. Many models are equipped with a cab, so the operator can be comfortable even in rain and snow. Capacities range from 4,000 to 11,000 lb.
High capacity forklifts
What if you need to lift a massive amount of weight but don't want to deal with the fumes of an internal combustion engine? Your solution: a high-capacity electric forklift. Lifting capacities range from 15,000 to 40,000 lb. And some manufacturers even go as high as 80,000 lb.! Common industries of use include rigging and metal forging.
Class II: Electric Narrow Aisle Trucks
Order pickers
Order pickers are designed to let operators hand-pick materials from the racks. Instead of using a ladder, the operator can pull alongside the racking and can lift themselves up or down, depending on where they need to pull stock.
Reach trucks
Warehouses and fulfillment centers with tall and deep racking commonly use reach trucks. Their unique ability to reach into the shelving allows for more material to be stored in the racking, which ultimately saves money. Two configurations of this truck include the single reach and the double reach.
Articulated forklifts
Some operations have narrow aisles that can't accommodate a standard-sized forklift. One solution to this problem is an articulated forklift. What's unique about this type of forklift is that the mast can turn left or right independent of the body of the truck. So, the operator can drive straight in the aisle and turn the mast at a 90-degree angle to access the material.
Pivoting-mast forklifts
Like an articulated forklift, a pivoting-mast forklift can rotate its mast at a 90-degree angle to its body. The difference is that only the mast moves and not the front tires like an articulated forklift.
Class III: Electric Motor Hand or Hand-Rider Trucks
Material lifts
When a standard forklift is overkill, you can turn to a material lift instead. These lifts can hoist material that's too heavy for a single person to handle. Lifting heights for this type of equipment usually top out around 26 and a half feet.
Hand pallet jacks
The most basic piece of material handling equipment is the hand pallet truck. Often seen in warehouses, grocery stores, and retailers, these units can lift up to 5,500 lbs. And simple controls mean just about anyone can use it to make moving heavy pallets easier.
Electric walkie pallet jacks
Manual pallet jacks can cause operators much fatigue. The solution? Replacing those hand-operated parts with electric motors. Common industries where electric pallet jacks are used include trucking, beverage, and retail.
Walkie/rider pallet jacks
Allowing operators to either walk behind or ride on the lift, walkie/rider pallet jacks are like giant skateboards. Except that they can carry thousands of pounds of material. They are often be found in warehouses and production facilities where loads must be moved over long distances.
Center-controlled pallet jacks
A slight variation on the walkie rider pallet jack, the operator stands in the middle of a center-controlled rider pallet jack. This protects the operator from collisions. It also lessens the chance of falling off the unit.
Paper roll handlers
Usually found in paper mills and converting companies, paper roll handlers are much like regular pallet jacks. But they are different insofar as the forks are specially-designed to cradle paper rolls.
Walkie stackers
Light-duty stackers
Useful in tight areas, the light-duty walkie stacker uses a small battery pack for power and features adjustable outriggers. Compared to a forklift, these machines have a smaller capacity. They usually range from 2,000 to 2,500 lb.
Industrial walkie stackers
A larger version of its cousin, the light-duty walkie stacker, the industrial version features an industrial battery instead of a simple battery pack. This added weight increases the lifting capacity of the unit to between 2,200 and 4,000 lb.
Walkie reach trucks
For applications where a standard reach truck is too large, a walkie reach truck can fit the bill. Designed like a walkie stacker, this type of forklift features a scissor-like mechanism called a pantograph on the front of the mast. This lets the carriage move forward and backward without the unit itself moving.
Counter-balanced stackers
Sometimes the outriggers on a standard walkie reach truck can get in the way of picking loads up. To get around this issue, the counterbalanced stacker has a longer chassis to increase leverage. And without those outriggers, the machine can pick up pallets of any width.
Class IV: Internal Combustion Engine Trucks - Cushion Tires
3,000 to 15,500 lb. capacity
3,000 lb. capacity
Generally, the smallest capacity cushion available, the 3,000 lb. is a light-duty truck ideal for warehouses and production lines. The small wheelbase and tight turning radius mean the truck can easily maneuver in small spaces.
3,500 lb. capacity
A little more lifting capacity means the 3,500 lb. forklift can do more than the 3,000 lb. But you don't have to sacrifice the small footprint, as the truck sits on the same size frame.
4,000 lb. capacity
Moving to a larger frame, the 4,000 lb. cushion lets you handle the tasks that the smaller trucks can't. But you'll have to exchange the extra capacity for a decrease in maneuverability. There is an option, though, for those who want the best of both worlds in the way of a "short frame" 4,000 lb. truck.
5,000 lb. capacity
The "bread and butter" forklift, this is the most common type of forklift that you'll see around. Also referred to as a "warehouse forklift," this truck is designed to work indoors on flat ground.
6,000 lb. capacity
Moving up, the 6,000 lb. truck is a little less common than the 5,000 lb. model. The size increase means that the counterweight is larger and the carriage is also bigger to accommodate more robust attachments.
6,500 lb. capacity
The 6,500 lb. truck is nearly identical to the 6,000 lb. model. Side by side, you won't even be able to tell the difference!
8,000 lb. capacity
The 8,000 lb. model is built on a larger frame than the 6,500 lb. It has the same size carriage as the next two sizes down. But the counterweight is larger and usually of a different design, to increase the lifting capacity.
10,000 lb. capacity
A true workhorse for heavy lifting, the 10,000 lb. cushion is at home in paper mills, fabricating shops and anywhere else where heavy loads are lifted indoors. Some manufacturers offer "boxcar" style counterweights, which allow the truck to operate inside of railcars and confined spaces more easily than the standard truck.
12,000 lb. capacity
Often found in paper mills and construction sites, the 12,000 lb. cushion is another workhorse of industry. Like the 10,000 lb. truck before it, some manufacturers offer "boxcar" style counterweights to lessen the machine's footprint.
12,000 lb. capacity paper roll special
A variation on the 12,000 lb. standard style, Toyota offers a truck that is specially designed to work in paper roll applications. It is configured in such a way that it can handle up to a 9,000 lb. paper roll. This much weight would otherwise be too heavy for a standard 12,000 lb. truck to lift.
13,500 lb. capacity
With a footprint smaller than the 15,500 lb. but larger than the 12,000 lb., the 13,500 lb. is the "middle child." Its counterweight is larger than the 12,000 lb., and so it will often not work in applications with tight spaces.
15,500 lb. capacity
The largest of the "core" line of cushion trucks, the 15,500 lb. truck has the largest counterweight and the largest lifting capacity. Often seen with extra-long forks, this truck is most often used in construction and rigging.
High-capacity cushion forklifts
When a 15,500 lb. forklift isn't enough, you'll need a high-capacity cushion forklift to get the job done. This type of forklift can range in capacity from 15,500 lb. up to 110,000 lb.! Because of their extreme capacity, size and expense, you won't see as many of these trucks around. Still, they can be found in forging plants, steelyards, and rigging operations.
Class V: Internal Combustion Engine Trucks - Pneumatic tires
3,000 to 17,500 lb. capacity
3,000 lb. capacity
The smallest of the modern pneumatic style forklifts, the 3,000 lb. pneumatic is ideal for light-duty outdoor applications. Common industries include pallet manufacturers and fabricating companies.
3,500 lb. capacity
A small step up from the 3,000 lb. pneumatic, the 3,500 lb. gives a little more lifting power without compromising the small footprint.
4,000 lb. capacity
A 4,000 lb. pneumatic will have a larger frame than the 3,000 to 3,500 lb. trucks. But it will have a smaller counterweight than the 5,000 lb. pneumatic.
5,000 lb. capacity
Like its close relative the 5,000 lb. cushion, the pneumatic version is a very common size truck to see. Larger tires and higher ground clearance mean it can handle a variety of outdoor terrains, like grass, mud, gravel, and concrete.
6,000 lb. capacity
Unlike other models, the jump from 5,000 lb. to 6,000 lb. in the pneumatic style means a fairly big jump in size. The counterweight on these trucks juts out much further than the next size down, resulting in a longer truck.
6,500 lb. capacity
Like the 6,000 lb. before it, the 6,500 lb. pneumatic features a larger counterweight and carriage.
8,000 lb. capacity
Commonly found in lumber yards and manufacturing facilities with outdoor storage, the 8,000 lb. pneumatic is often fitted with a cab. So no matter what Mother Nature throws at it, the operator can stay warm and dry.
10,000 lb. capacity
The 10,000 lb. pneumatic can be found where its smaller cousin, the 8,000 lb. pneumatic thrives but just needs a little more "oomph" to get the job done.
13,500 lb. capacity
A rather uncommon size for a pneumatic, you still may see some 13,500 lb. pneumatic forklifts driving around outdoor lumber and metal yards.
15,500 lb. capacity
A staple of lumber and concrete yards, the 15,500 lb. pneumatic can come in either an LPG or diesel-powered configuration. Options like a cab with heat and dual drive tires are often found on this size machine.
17,500 lb. capacity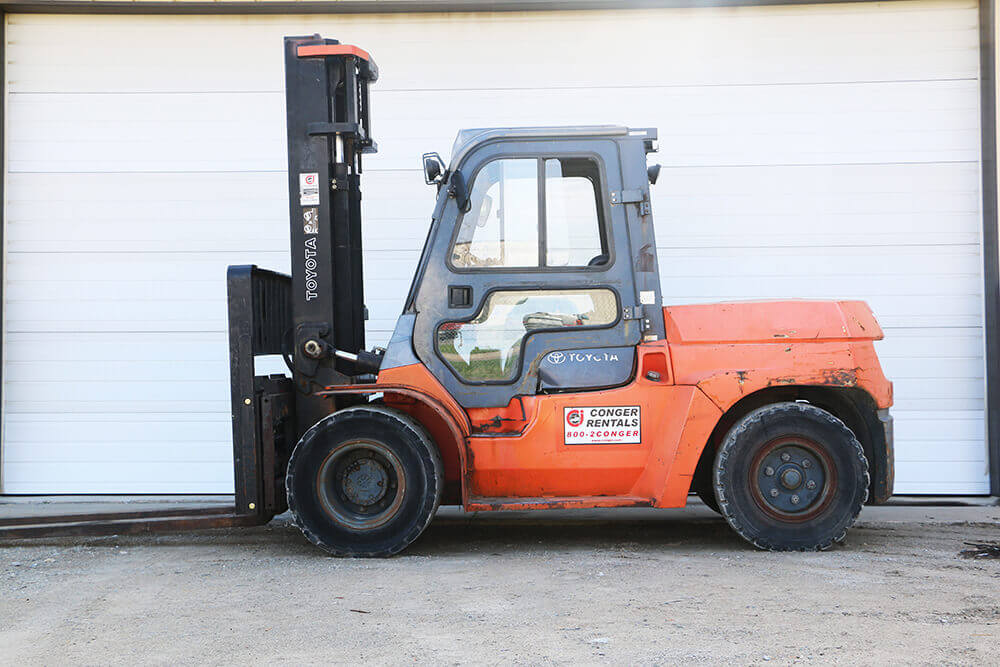 One step up from the 15,500 lb. pneumatic, the 17,500 lb. is found in applications like fabricating and assembly plants.
High-capacity forklifts
Yard trucks
These behemoths range in capacity from 22,000 lb. to a whopping 125,000 lb.! Common industries that use these types of forklifts include lumber yards, metal yards, and shipping ports.
Marina forklifts
Built to lift boats in and out of tall storage racks while coping with the corrosive nature of seawater, marina forklifts are over-sized lifts with long, rubber-coated forks. They come in a variety of configurations, including diesel and electric.
Container handlers
You'll find these beasts in shipping ports, where they are used to handle containers brought from overseas via cargo ships. They feature specially-designed lifting carriages and come in two configurations: with mast and with reach.
Class VII: Rough Terrain Forklift Trucks
Telehandlers
Also called "telescoping forklifts," these machines feature a boom arm that extends outward. While most often found with a fork attachment, these machines can also mount buckets, hooks, and clamps. Capacities range from 5,500 to 16,755 lb. And lifting heights range from 19 to 56 feet.
Off-road forklifts
This type of forklift is commonly used in construction and farming. That's because it's useful for carrying heavy loads across uneven, muddy terrain. These machines are usually diesel-powered and feature over-sized, air-filled tires.
Truck-mounted forklift
You'll often see these forklifts traveling down the highway on the back of semi-truck trailers. Also called "piggyback" forklifts, they can be deployed anywhere they're needed to load and unload their "host" truck and trailer.
Tractor forklifts
Almost exclusively found on farms, tractor forklifts are simply a tractor with a forklift mast mounted on either the front or the back of the tractor. They can function as an off-road forklift for smaller loads, saving the operator the expense of a completely separate machine.
Wheel loaders
While these machines usually have a bucket attachment, they can also feature a straight mast with forks or just forks. The size of these machines allows them to lift greater capacities than the smaller forklifts featured in this list.
Skid steers
Like telehandlers and wheel loaders, skid steers can function with a variety of attachments besides forks. This saves operators the expense of needing two different machines since one can perform a variety of tasks.
Specialized: Swing-Reach, Multi-Directional, Sideloader, Cold Storage And Explosion-Proof Forklifts
Swing-reach order pickers
This type of forklift is closely related to its cousin the standard order picker. Whereas the standard order pickers have fixed forks that can only be driven in or out of the pallet, the swing-reach's forks can approach pallets from a variety of positions. This allows warehousing operations to pack more material in tighter aisles but still be able to retrieve it.
Multi-directional forklifts
Multi-directional forklifts allow the operator to drive forward, backward and side-to-side. Instead of using the steering wheel, the operator can switch travel direction with just the flick of a switch! This comes in handy when trying to handle very long loads that can't fit through doorways.
Sideloaders
Like multi-directional forklifts, sideloaders make handling long loads much easier. These machines are a combination of a truck and a forklift. Instead of the mast being mounted on the front of the machine, it's sandwiched in the middle of the chassis. Common industries of use include lumber yards, steelyards, and recycling facilities.
Cold storage
While they look nearly identical to "regular" forklifts, cold storage forklifts have special parts that are resistant to freezing and condensation. Beyond that, certain sensitive components are sealed to prevent excessive moisture. Some models can even be manufactured out of stainless steel to prevent rust formation in high-saline environments, like meat processing facilities.
Explosion-proof forklifts
For industries where explosions are a constant threat, a standard forklift would present too much of a danger. To eliminate the chance of combustion, all electrical components in an explosion-proof forklift are completely sealed. And any metal parts which could spark on contact are replaced or covered with non-sparking bronze. Paint factories, sugar mills, and ordnance facilities are popular users of this type of machine.
Other: Automated Vehicles, By Mast, And Antiques
Autonomous & remote controlled forklifts
Like it or not, automation is the future. Even with a solid 4% job growth for forklift operators expected between 2018 and 2028, robotic forklifts are set to take over. Even today, there are a couple of types of forklifts already on the market that are doing more and more of the human operator's job for them.
Robotic pallet jacks
Pallet jacks with "vision guidance" can follow the layout of a warehouse using 3D modeling technology.
Order pickers with wire guidance
Order pickers with a wire guidance package installed can follow along a path automatically with only minimal input from the operator.
By mast
While not technically a "type" of forklift, forklifts can be categorized by the type of mast they have installed. The most common type is the triplex mast. But as a general rule, most forklifts can take a multitude of different sizes and configurations.
Simplex mast
A simplex mast features two mast rails and no free lift cylinder. When the forks are raised, the inner rail will almost immediately protrude from the top. These masts work well outdoors but can cause problems when operated indoors with low ceilings.
Duplex mast
A duplex mast has two rails, like the simplex mast. But the difference is the duplex mast has a free lift cylinder. This allows the load to be raised a certain distance before the inner rails protrude from the top.
Triplex mast
The triplex mast consists of three rails and a free lift cylinder. This type of mast is common in rental fleets and just about anywhere else that uses forklifts.
Quad mast
A quad mast has four mast rails and a free lift cylinder. These forklifts can reach heights of 20 feet or more and can be found in warehousing operations.
Trucker mast
A trucker mast is essentially a simplex mast that's been cut down. Their usefulness lies in the fact that they allow operators to double-stack pallets within a semi-trailer without piercing the roof of the trailer.
Double mast
A double mast forklift has a second mast attached to the carriage of the first mast. When the first mast reaches maximum height, the second mast will extend. This is an extremely rare type of mast configuration and reduces the lifting capacity of the truck considerably.
Antique forklifts
Forklifts have been helping workers since the early 20th century. There have been countless designs throughout the years, many of questionable safety. But one thing is for sure: without them and the men and women who operate them, industry would have come to a standstill decades ago. Here are a few of the more interesting kinds of forklifts that have come and gone over the years:
Now We'd Like To Hear From You
Do you use a forklift that wasn't included on the list?
Are you looking for more specific information on anything you saw?
Either way, leave a comment below!