This article covers all the parts of a forklift and their functions.
In it, you'll learn:
The main parts of a counterbalance forklift
The different varieties of forklift components
What each component does
And lots more!
Let's dive in!
Answer: The chassis, the mast, and the overhead guard.
Additionally, forklifts have numerous safety devices distributed throughout the truck.
But within these groups, there's more to the story.
So what follows in this article is a breakdown of each group.
A forklift counterweight is a weight mounted on the rear of a forklift.
What does the counterweight do on a forklift?
Answer: It counteracts the weight on the forks and provides for the proper weight distribution of the truck.
If you think of a forklift as a teeter totter, this may make more sense.
The front wheels act as the fulcrum - or balancing point.
So any weight ahead of the front wheels needs to be balanced by weight behind the wheels.
Without that counterbalance, a loaded forklift would become too heavy on the front.
And this would cause the lift truck to tip forward - rendering it useless and potentially causing injury.
What Are the Main Types of Forklift Counterweights?
This is the most common type of counterweight you'll see on a forklift.
Bulk-type counterweights are designed with a hollow body that's typically lead-filled.
They can also consist of a single metal casting or a hollow metal container with a mix of concrete and metal.
Stack counterweights are usually used on high-capacity forklifts.
These have metal plates or cast metal housings/steel canisters designed to stack onto a base plate.
Removing or stacking these plates enables the lift to handle more weight.
Lift trucks with stack-type counterweights can have as many as six plates stacked, each at 2.5 tons.
The Engine/Battery Compartment
Obviously, this part of the chassis is where the power source for forklifts exists.
The engine compartment on a sit-down internal combustion forklift is located directly under the operator's seat.
The battery compartment on an electric forklift is also located under the seat.
In internal combustion forklifts, the parts of a forklift engine include the:
Engine itself
Transmission
Fuel system
Radiator and cooling system
Air intake
Hydraulic valve, pump, and tank
Electrical fuse box
In an electric forklift, this compartment contains the battery and electrical controllers.
Because they're battery-powered, electric forklifts have fewer components than internal combustion fork trucks do.
That is, they do not have a transmission, fuel system, radiator and cooling system, and air intake.
They do, however, have hydraulic systems to operate the mast.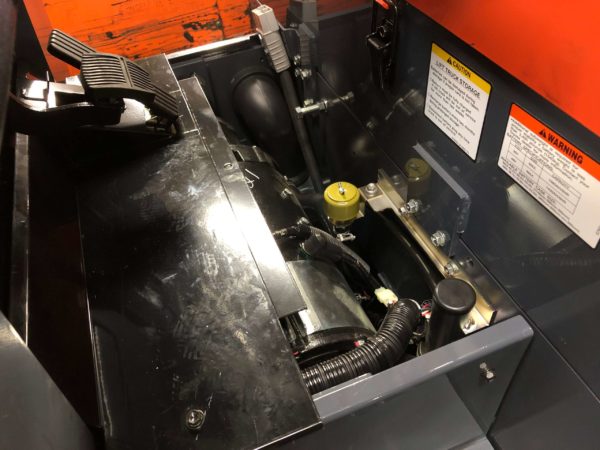 These are located underneath the floorboard, which the operator's feet rest on.
The operator compartment is where the forklift operator sits or stands during operation.
Common components in the operator compartment include:
This is self-explanatory.
Forklift steering wheels also include a horn for safety.
This is also self-explanatory.
Newer forklifts require seat belts.
There are different pedals for different functions, including the accelerator, service brake, parking brake, and inching pedal.
Forklifts have 3 basic hydraulic control levers:
Lift knob to control the fork's height
Tilt knob to control the mast's tilts (up and down)
An auxiliary knob used for attachment functions like side shifting
Some forklifts have 4 or even 5 control knobs for additional auxiliary functions.
These include an hour meter, engine temperature, warning indicators, and speedometer.
Just like in a car, they're used to measure different aspects of the lift's operation.
Sometimes called a capacity plate or a nameplate, the forklift data plate includes important information about the lift truck's design and capabilities.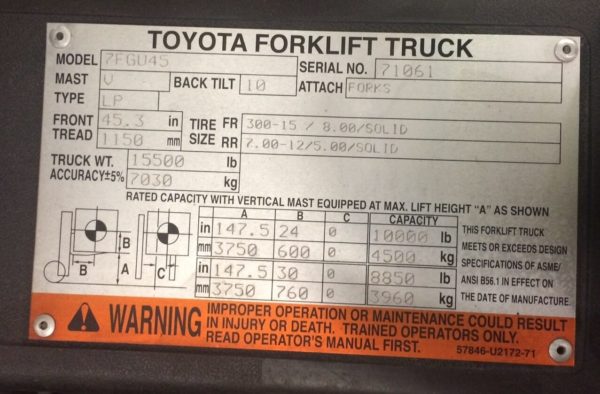 That includes information like:
Forklift weight
Fuel type
Battery type
Mast type
Attachments
Load capacity
Tire size
Operators need to understand the data plate before using the lift.
Forklift wheels and tires are different from those in road vehicles.
For one, there are various types of tires available.
For another, forklifts steer in the opposite way than cars do.
And finally, forklifts do not have any suspension connected to the wheels.
Let's cover forklift wheels and tires in more detail.
Forklifts have two types of wheels: Drive wheels and steer wheels.
Drive wheels are located on the front axle of the forklift and are what the engine or electric motor supplies power to in order to move the lift truck.
These wheels do not steer left and right.
Instead, they support most of the load from the mast in a fixed position.
These are located on the rear axle of the forklift.
They allow the lift truck to turn, and also act as support for the counterweight.
Forklifts have different types of tires depending on the type of forklift and application.
The main types of forklift tires are:
These tires are filled with air, just like car tires.
Overall, they have better traction and stability on uneven terrain.
But they are prone to punctures from nails and metal debris.
Solid pneumatic tires are like air pneumatic tires.
But instead of being filled with air, they're typically filled with foam.
That also makes them more expensive than air-filled pneumatic tires.
Solid pneumatics are best for outdoor areas with a lot of debris that can puncture air-filled tires.
They're typically used in lumber yards, scrap yards, and construction sites.
Cushion tires (also called press-on tires) are made of solid rubber molded to a steel band.
They're ideal for indoor use on smooth driving surfaces or light outdoor use.
Many forklift users choose to outfit their lifts with non-marking cushion tires.
The advantage of these is that they won't scuff up the floor as regular black cushion tires will.
A single-stage mast - also called a "Simplex" forklift mast - has one channel and, therefore, a limited lifting height.
They have zero free lift capability, meaning as the forks rise, the top of the mast also rises.
So, these types of masts are best for outdoor environments or applications where overhead clearance doesn't matter.
A two-stage mast - or "Double" or "Duplex" mast - has two channels or sections either with or without full free lift capabilities.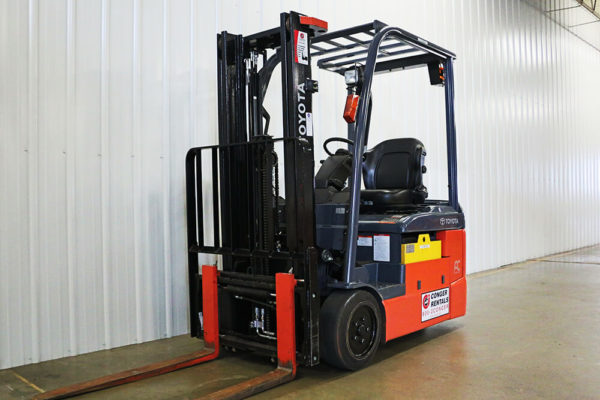 A 2-stage mast is best for jobs that don't need to lift very high.
An example is loading and unloading flatbed semi-trailers.
Also called a "Triplex," "Triple," or "Triple Stage Upright (TSU)," this is the most common type of mast.
A 3-stage mast has three sections.
These sections extend the carriage and forks to the maximum lift height with two sliding rails on the sides and a single stationary rail.
It enables loading and unloading at greater heights than single- or two-stage masts.
This mast uses four sets of rails with added chains to give four stages of lifting with full free lift.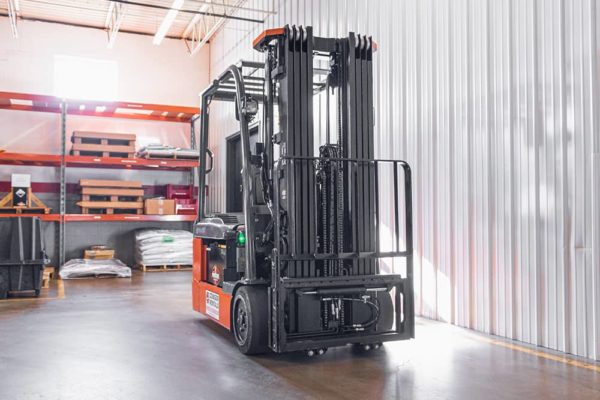 It provides the highest reach and is commonly used in very high stacking in specialized warehousing.
What Are the Main Forklift Mast Parts?
The parts of a forklift mast include:
Rails
Cylinders
Chains
Carriage
Let's go through each part.
The rails are the "frame" of the mast.
They allow the mast to extend up to its maximum fork height (MFH) or down to its collapsed or lowered height.
Also called hydraulic cylinders, lift cylinders harness hydraulic power to raise or lower the mast and load.
There are 2 types of lift cylinders:
Free lift
Outboard
Free lift cylinders are mounted in the center of the mast and allow the carriage to rise without extending the rails through the top of the mast.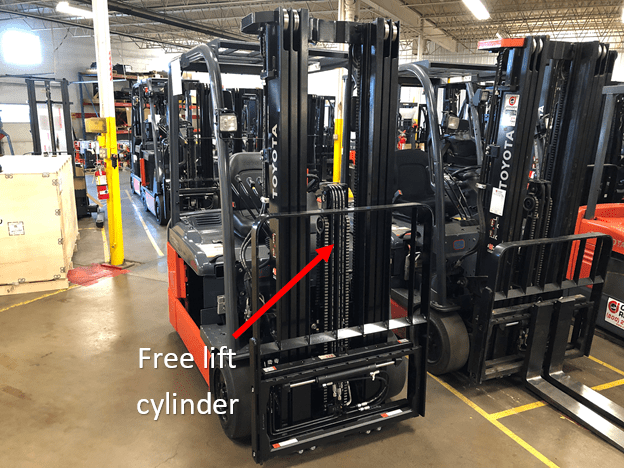 The outboard cylinders are located in the rear of the mast and push the nested rails upward.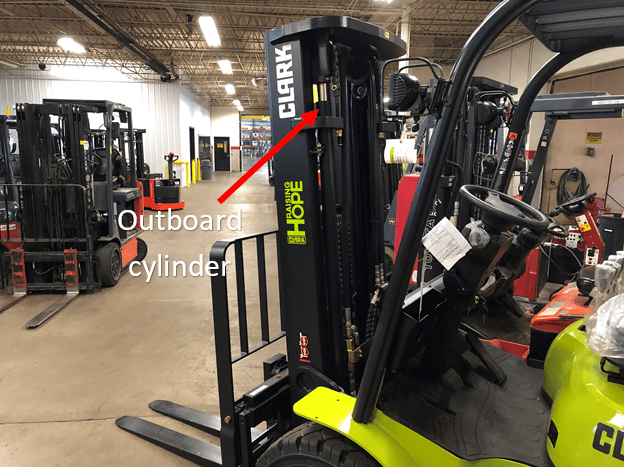 These control the forward and backward movement of the mast.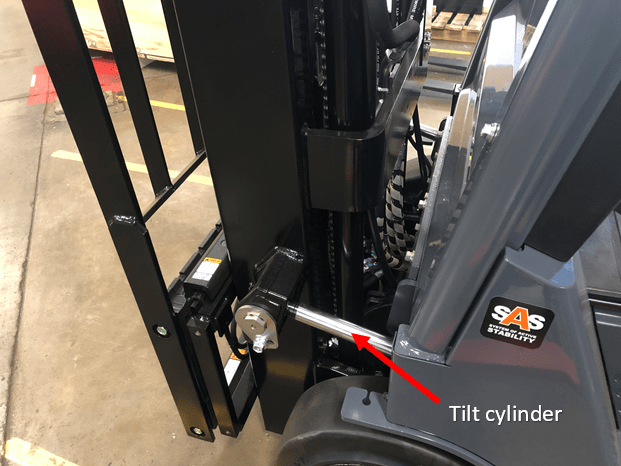 They're double-acting hydraulic cylinders, meaning they can both push and pull.
Forklift mast chains attach the carriage to the hydraulic cylinders.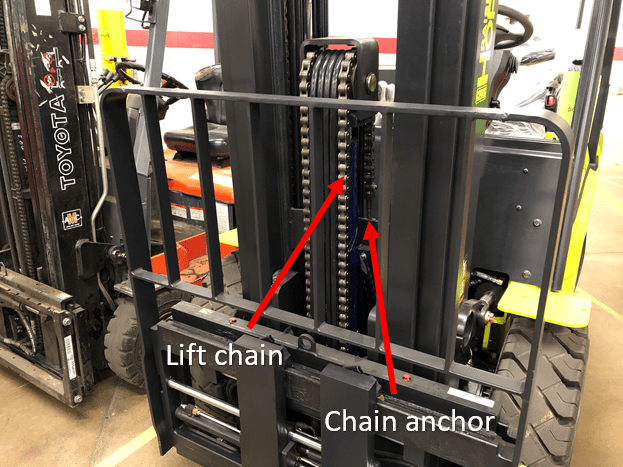 They function in combination with lift cylinders and rails to raise and lower the carriage.
The carriage is the component that is lifted and that also does the lifting in a forklift.
The carriage is installed inside the mast rails, attached to lift chains, and has a mounting rail for attachments.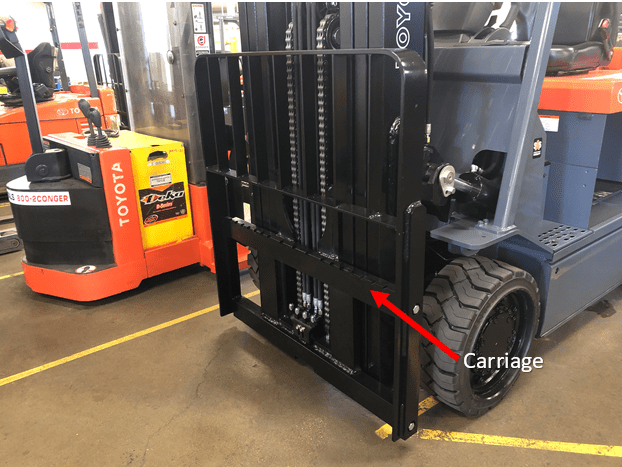 A load backrest bolts onto the carriage and helps to prevent the load from tumbling backward off the forks (and even onto the forklift itself).
Not all carriages are the same.
Instead, they differ according to their size and the weights they can handle.
The following are the 5 carriage classes, along with their capacities:
| Class | Carriage Height | Lifting Capacity |
| --- | --- | --- |
| I | 13" | <2,200 lbs. |
| II | 16" | 2,200 lbs. — 5,500 lbs. |
| III | 20" | 5,500 lbs. — 10,998 lbs. |
| IV | 25" | 11,000 lbs. — 17,600 lbs. |
| V | 28.66" | 17,602 lbs. — 24,198 lbs. |
Attachments mount to the carriage and are what actually handle the loads.
Common forklift attachments include:
The simplest attachment, forks simply hook onto the carriage.
Common fork sizes include:
A sideshifter hooks onto the carriage and forks hook onto the sideshifter.
With this arrangement, operators can move a load from side to side.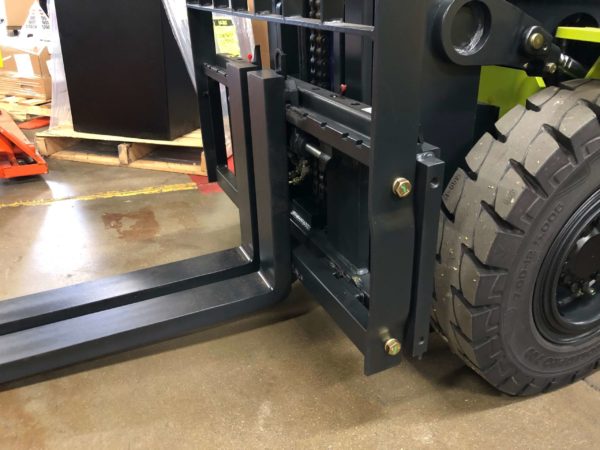 In doing so, the operator can make minor adjustments to the load alignment without maneuvering the entire forklift.
Fork positioners are typically sideshifters with extra hydraulics that allow side-to-side positioning of the forks.
They are essential when the load's width constantly changes since they allow the operator to quickly align the forks with the pallet channels.
These attachments are designed to handle cylindrical paper rolls.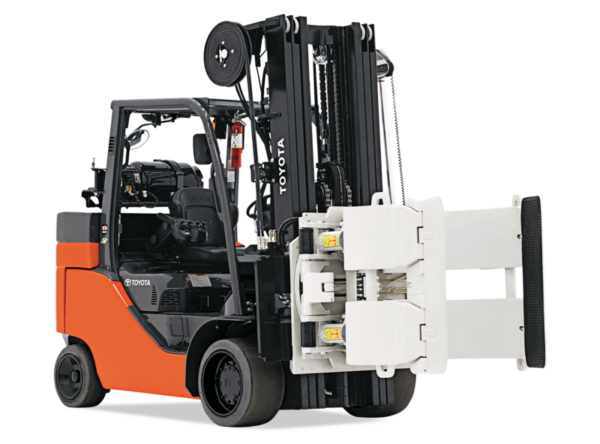 As you can imagine, they're commonly used in the paper and printing industries.
Another common name for this style of attachment is the "single-double."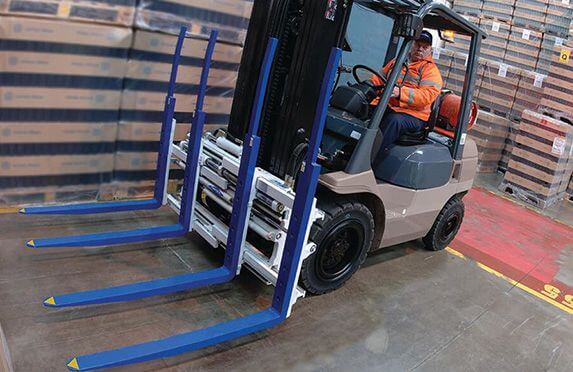 These allow operators to handle more than one pallet by hydraulically spreading multiple sets of forklifts.
Then, the operator can carry multiple pallets at the same time.
Also called a "push/pull" attachment, these are designed to handle non-palletized goods.
To do so, the attachment grabs onto the "slip sheet" under the load.
Then, the attachment retracts and pulls the load onto the forks beneath.
These are commonly used in sensitive industries like food and pharmaceuticals where using wood pallets could contaminate the products.
The overhead guard is a safety feature designed to protect the operator from falling objects while within the confines of the operator compartment.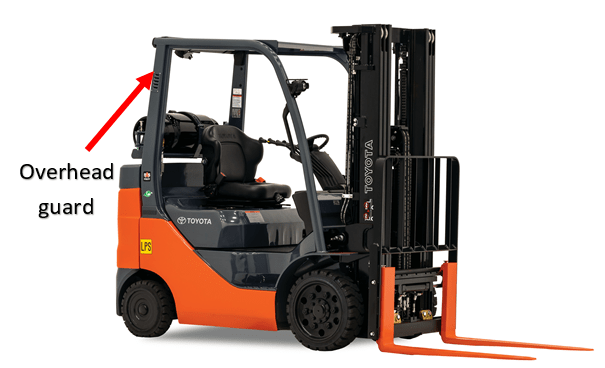 Since the 1960s or so, overhead guards have been standard equipment on forklifts.
And in fact, they are required by OSHA, which states that:
"An overhead guard shall be used as protection against the impact of small falling objects such as boxes, debris, small packages, bagged material, etc. But, they're not able to withstand the impact of a falling capacity load."
In past years, forklifts had practically zero safety features.
Today, there are many different options for keeping operators, supervisors, and pedestrians safe.
These include:
Like car seat belts, forklift seat belts save lives as they restrain the driver and prevent them from being catapulted out of the compartment in case of a tip-over.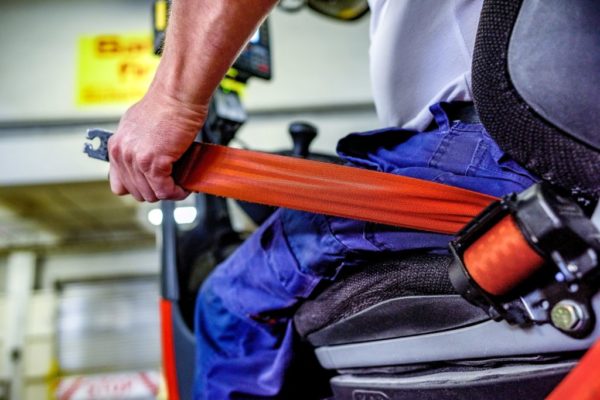 These are commonly found on forklifts working in dark areas, like semi-trailers, to improve visibility.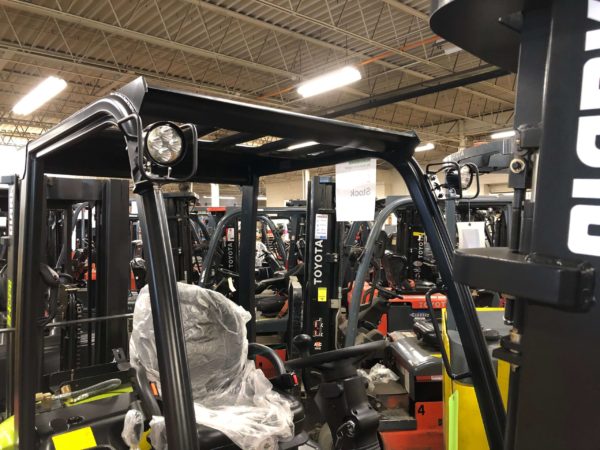 Warning lights can take many forms.
One popular type is blue lights.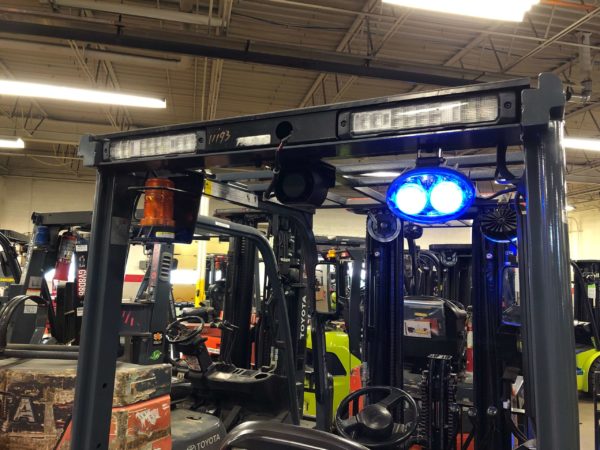 These are used to alert pedestrians and warehouse workers that a forklift is approaching.
Red-Zone lights are another type of warning light.
They are used to alert pedestrians/warehouse workers of how close they can get to the forklift.
Mirrors are mounted on the left and right pillars of the overhead guard to allow the operator to see behind the fork truck.
Not all forklifts have these, nor are they required.
Brake Lights and Turn Signals
These for extra signaling, just like on a car or truck.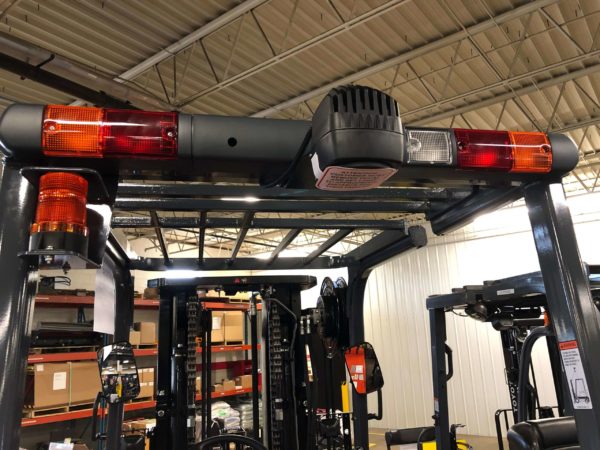 But like mirrors, not all lift trucks have them.
Strobe lights are typically mounted on the rear of the overhead guard where everyone can see them.
They serve as a universal sign that workers should be alert.
These provide audible warnings either when the forklift is in motion or just when the forklift is backing up.
Forklifts must be equipped with horns.
They provide a warning when crossing thresholds that may have pedestrians nearby.
That's it: Forklift part names and their functions.
Now, we'd like to turn it to you.
Were you surprised about any of the parts of a forklift?
Do you have further questions?
Let us know in the comments section!