So you're in the market for a forklift but not sure if you should go with new or used?
Well, you're in the right place, because by the time you're finished with this new and used forklift pricing guide, you'll know not only know more about forklift pricing, you'll also learn:
Why price shouldn't be the only factor in your decision (and what those other factors are)
The advantages and disadvantages of buying new and used
How to make sure that your forklift choice will work in your application
How long a forklift can last - on average - and what factors can shorten or extend a forklift's life
How to make sure that your final choice makes financial sense
Your options for where to buy your next forklift
With that, let's dive in.
Add a header to begin generating the table of contents
How Forklift Pricing Is Determined
Asking "how much does a forklift cost?" is a lot like asking how much a car costs. If you were to ask a car salesperson, they'd probably respond with a few questions:
What kind of car? 

How much horsepower do you want? 

What options are you looking for? 

What year do you want? 

How many miles are acceptable? 

What kind of a warranty do you need? 
Many different factors go into the prices of forklifts. So, before we get to the actual figures, let's take a few moments to understand how pricing is determined for both new and used forklifts.
The Main Factors for New and Used Forklift Pricing
Here are the major factors that determine the price of forklifts, whether new or used:
Capacity

Fuel type

Mast size

Tire type

Hydraulic setup

Configuration, features & accessories
We'll cover each one below.
The capacity of the tow motor will have a major effect on the pricing. Because the higher the forklift's capacity, the higher the price. And that's simply because more material is required to manufacture the truck.
For instance, a 10,000 lb. capacity truck can cost nearly twice as much as a 5,000 lb. truck. So keep that in mind as you do your shopping.
The major fuel sources for forklifts include electric, liquefied propane gas (LPG), and diesel.
Generally speaking, electrics cost more than LPG and diesel trucks do. That's because when you buy electric, you're paying for fuel upfront, in the form of the industrial battery that powers the lift.
Diesel, on the other hand, costs more than LPG trucks do. And that's because diesel trucks are manufactured with heavier, more durable parts due to the way their engines operate. 
LPG-powered trucks, conversely, are usually the least expensive option. And additionally, the cost of the LPG fuel itself is less than the cost of diesel per unit by as much as 50%.
Across the industry, a 189" three-stage mast is standard. But besides that, there are a multitude of different heights and configurations.
Some are shorter, so they can fit into confined spaces like semi-trailers. Others are extra tall in order to reach 25-foot-tall racking.
Usually, the taller the mast is, the more material is needed to make it, which raises the cost.
Depending on the particular model of truck you're after, the choice of tires ranges from cushion, air-filled pneumatic, and solid foam-filled tires. Beyond that, there are additional options like razor-siping for slick conditions and non-marking tires for operations where floor marks are undesirable.
That being said, black cushions and air-filled pneumatic tires are usually the base option for most forklifts. So if you want something beyond the standard, like foam-filled or even dual drive tires, be prepared to spend $1,500 to $4,000 or even more to get them.
Usually, trucks will come standard with a 3-way hydraulic valve and single internal hosing. This means the truck's hydraulics are configured to lift and tilt the mast, along with one more function, usually to control the side-to-side shifting action of the side shifter.
But if you want to equip your forklift with something a little "fancier," like a side shifting fork positioner, paper roll clamp, or a slip-sheet attachment, you'll need an extra valve section. And this option, in turn, will add to the sticker price of your forklift.
Configuration, features & accessories
The more features you want the lift truck to have, and the more specifically-configured you need it for your operation, the more expensive it will be. Some of the upcharges that influence the price include:
Cab: Expect to pay extra for a full cab with heater

Paint: If you want a custom color scheme, like your company's colors

Specialized options: Cold storage package for freezer applications; ES, EE, EX-ratings for working with/around hazardous materials
Additionally, accessories can drive up the price.
Items like blue and red zone safety lights, LED headlights, and even suspension seats are becoming more and more popular for many operations, due to their positive effect on safety and ergonomics. But they're usually not free - expect to spend several hundred dollars or even more to outfit your lift with them.
More Price Factors for Used Forklifts
When it comes to prices for used equipment, there are a few additional factors than with new equipment:
Condition of the forklift & thoroughness of the seller

Year

Hours

Supply & demand

Warranty

Paint

Attachment

Negotiation
Let's cover each one.
Condition of the forklift & thoroughness of the seller
Of course, the condition of the truck itself will have a huge impact on its price.
Forklifts that come from dirty or destructive environments, like chemical factories, foundries, and food processing plants are simply harder to sell because they're often in poor condition.
And there are some sellers who, frankly, will only glance over a less-than-stellar forklift that they've acquired and are trying to sell. They may only make minor repairs or no repairs at all before slapping a price on it and putting it up for sale. These types of sales will typically be "as is."
That's why you'll often see forklifts on eBay, Craigslist, or auction sites for as little as $3,000 or less. More often than not, you'll be able to quickly see from the pictures that the truck is tough, with extensive rust, excessively-worn tires, and damaged components.
Beware of those "great deals" you find online. While you might find cheap, you might not find quality along with it.
There isn't anything wrong with that approach, necessarily. But the buyer must be aware that their potential "great deal" will more than likely need a lot of TLC before being able to be used. And make no mistake - the cost of that TLC will come out of your budget.
Other sellers might wind up with less-than-stellar used forklifts but will still go through the lift, fix what's wrong in order to ensure the lift is at least safe to operate, then try to turn it for a profit.
So, the kind of shape the lift truck is in, and whether or not the truck has been "gone through" or had its issues fixed prior to the sale will have a major impact on the price.
Like automobiles, newer forklifts will be priced higher than older ones. Because the older the lift is, the older and more outdated the features are. 
And not only that, but older forklifts tend to have higher usage and thus more wear and tear compared to ones that are only a couple of years old. 
The age of the forklift plays a significant role in used pricing. If possible, aim for 10 years or newer.
While it does vary from seller to seller, a general rule of thumb is that anything older than 10 years will be priced noticeably cheaper.
Put simply, the higher the hours, the less-expensive the lift.
Whereas automobile usage is measured in miles driven, forklift usage is measured in hours used. We usually say that 200 hours on a forklift is equivalent to 3,000 miles on a car. So, if you do the math, a forklift with 5,000 hours on it has roughly the same usage as a car with 75,000 miles on it. 
But hours don't tell the full story. For instance, 2,000 hours in a facility that produces caustic chemicals will be vastly different than 2,000 hours in an application that makes pillows. Therefore, sellers will often weigh the overall condition of the truck more heavily than the hours it has on it when deciding on a price.
Some trucks - especially higher-capacity ones - are simply less available than more common "bread and butter" trucks, like 5,000 lb. cushion trucks (the archetypal "warehouse forklift"). 
When this happens, the law of supply and demand will cause the price of the high-capacity forklifts to rise.
Sometimes, though, the supply factor works out in the buyer's favor.
For example, a used forklift dealer may simply be sitting on too many of a particular truck. If they've experienced an influx of lease returns from a particular customer, they might be looking to get rid of that extra supply at a discounted rate.
If the seller is sitting on a lot of a certain type of truck, that can mean a better price for you.
And that means a potentially better deal for you, the buyer.
Additionally, the time of year can have an impact on supply and demand, thereby increasing or decreasing prices.
Pneumatic-tired trucks, for instance, are popular in the springtime. And cab trucks are popular in the winter time.
So if you can anticipate your need, wait until the offseason to purchase what you're looking for. Otherwise you may find yourself paying a premium for a hard-to-find truck.
Whereas new forklifts can come with a warranty period of one to five years, it's not nearly as long for used forklifts. 
The warranty options do vary from seller to seller and lift to lift. For instance, we've already mentioned the "as is" forklifts, which are often in rough shape, sold at a discount, and come without a warranty. Other common warranties include 30-day parts and labor warranties, 60-day parts and labor warranties, and six-month powertrain warranties.
Likewise, the cost of a warranty will be highly-dependent on the particular situation, the lift, it's hours, and frankly how badly the seller wants you to buy. But expect to spend anywhere from a couple hundred dollars to $2,500 or more for a warranty.
If you're looking to buy a forklift out of state, however, don't expect a warranty at all. That's because it's difficult and expensive for dealers to offer warranties for equipment that's not in their territory.
Do you want a fresh paint job, along with body work done to your used lift? Some buyers do, but for different reasons. 
While some operations require their forklifts to maintain their paint in order to safeguard against product contamination from paint chips, others do it to preserve the integrity of the forklift. Because if operators see a nicely-painted lift, they'll be more likely to take care of it.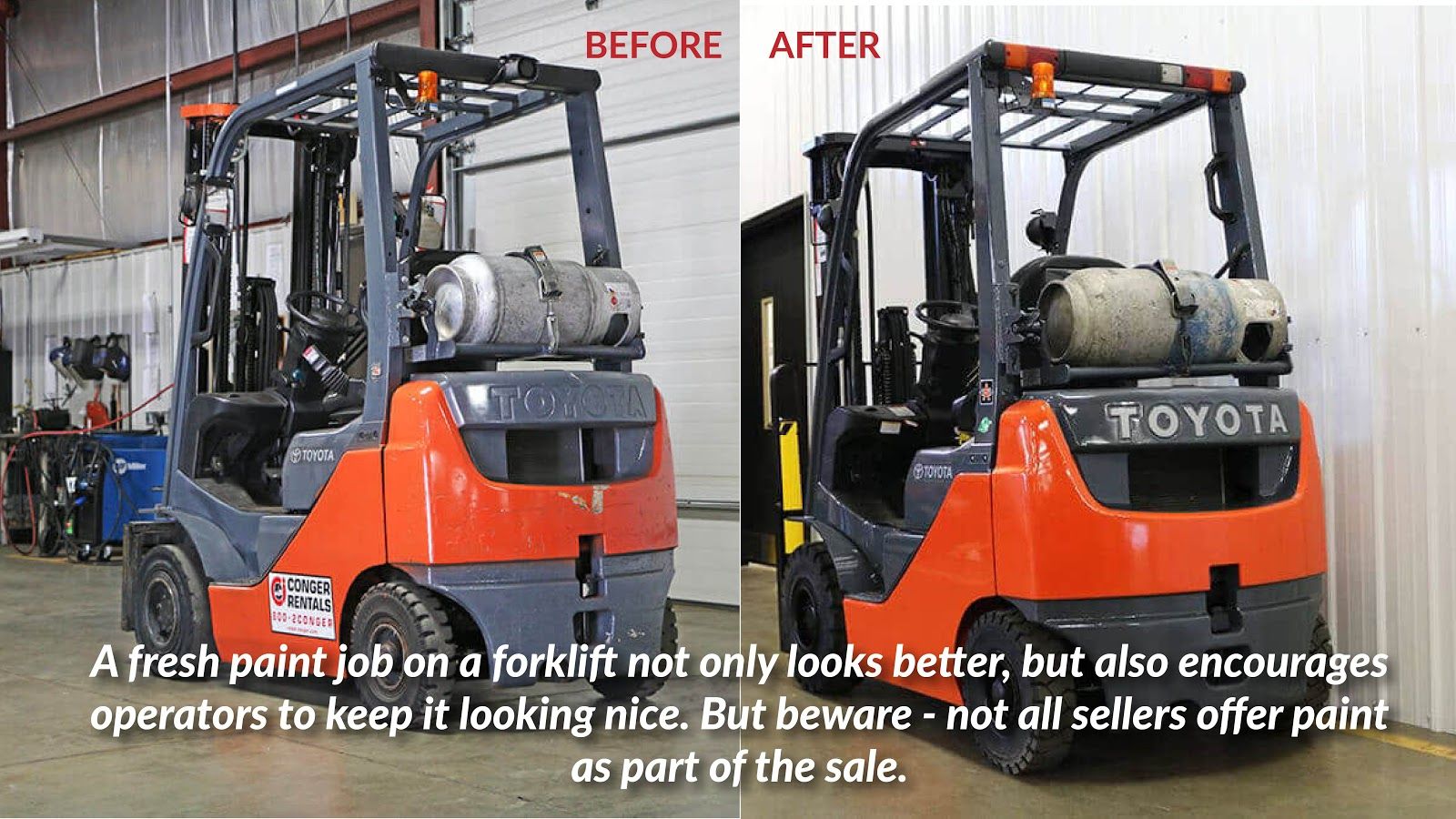 Regardless of the reasoning, however, be prepared to spend anywhere between $1,000 and $2,000 for a fresh paint job.
By default, most trucks will come with a sideshifter at no extra cost. But other times, the truck might have a paper roll clamp, box clamp, or any number of other attachments, depending on the application it came from.
While normally the exception rather than the rule, some sellers prefer to keep the attachment with the truck it's currently on and sell the whole thing as a package deal.
Depending on which type of attachment it is, its inclusion with the truck can bump the price of the whole package up by thousands of dollars. So it behooves you to ask if they're willing to sell the lift truck without the attachment. Sometimes they will, other times they won't. But it doesn't hurt to ask.
Negotiation is as much a part of the used forklift business as it is the used car business. 
And that can be quite good news for you, the buyer. Because you have a chance of reducing the price of the lift you're after, or getting some "freebies" thrown into the deal in order to make the sale. 
Depending on the seller, you may be able to negotiate for "freebies," like a fresh coat of paint, new tires, or an upgraded attachment.
You might be able to convince the seller, for instance, (if they're a dealership) to throw in a paint job for free. Or, perhaps they'd be willing to include a new set of foam-filled tires, an upgraded attachment, or free out-of-state shipping. 
In the end, these "freebies" can add up to thousands of dollars in savings for you.
Your Burning Question Finally Answered
Okay, now that we've laid the groundwork for understanding new and used forklift pricing, it's time to get into the actual numbers.
The following is a rough range of prices for the most common types of forklifts.
How Much Does a New Forklift Cost?
Brand new forklift prices are admittedly a bit difficult to find.
This is on account of the fact that prices are typically only revealed through a quote (as opposed to retail stores where the price is out there in the open). 
That being said, we looked through our records, and, combined with our experience, we feel these prices give a good rough estimate of what you can expect to pay for the most popular models and configurations of forklifts, across a variety of brands. 
We used these specs and options as we devised to price list, in order to maintain an apples-to-apples comparison:
187" mast

Battery & charger included with electrics

Included 1-year basic, 3-year powertrain warranty for all trucks
| Truck Model | Price Range |
| --- | --- |
| 3,000 lb. Electric | $26,500-$30,500 |
| 3,000 lb. Cushion | $19,500-$22,000 |
| 3,000 lb. Pneumatic | $21,900-$29,600 |
| 5,000 lb. Electric | $35,000-$40,500 |
| 5,000 lb. Cushion | $24,000-$30,000 |
| 5,000 lb. Pneumatic | $30,500-$40,000 |
| 10,000 lb. Cushion | $44,500-$60,000 |
| 10,000 lb. Pneumatic | $40,000-$62,000 |
| 15,000 lb. Cushion | $60,000-$80,000 |
| 15,000 lb. Pneumatic | $60,000-$80,000 |
How Much Does a Used Forklift Cost?
We were able to get a little more granular with the used pricing. That's because there are a plethora of used equipment trading websites online that openly list the prices of many different kinds of equipment. 
We ended up examining 85 listings of the most common types of forklifts, each within the range of the following specs (again, in order to get as close of an apples-to-apples comparison as possible):
2010 or newer

5,000 hours or less

149" to 200" mast

Located in the United States
And as you can see, a used forklift could be sold from $9,000 to $56,000, depending on the capacity and hours
| Truck Model | Low Price | High Price | Average Price |
| --- | --- | --- | --- |
| 3,000 lb. Electric | $8,950 | $19,900 | $15,000 |
| 3,000 lb. Cushion | $8,500 | $16,900 | $13,300 |
| 3,000 lb. Pneumatic | $16,900 | $18,900 | $17,500 |
| 5,000 lb. Electric | $8,550 | $25,000 | $18,400 |
| 5,000 lb. Cushion | $9,900 | $21,900 | $16,700 |
| 5,000 lb. Pneumatic | $13,900 | $23,900 | $18,100 |
| 10,000 lb. Cushion | $17,900 | $29,900 | $24,700 |
| 10,000 lb. Pneumatic | $35,500 | $49,000 | $41,400 |
| 15,000 lb. Cushion | $34,885 | $52,500 | $45,100 |
| 15,000 lb. Pneumatic | $42,000 | $56,000 | $46,600 |
Why Price Isn't All That Matters When Shopping for a New or Used Forklift
Now that you know the range of prices for both new and used equipment, I'd advise you not to stop there. Too often, price is the only consideration when shopping for a forklift. But there are other, very important factors to consider as well.
To explore those other factors, let's examine the various advantages and disadvantages that come with buying both new and used forklifts. Once we've run through them, you'll see exactly why you shouldn't fixate only on price when making your decision. 
And in the process, you'll be in a better position to avoid making a major (and embarrassing) financial blunder in the process.
Buying a New Forklift: The Advantages
Although the price is higher, there are still a lot of advantages you should be aware of with respect to buying a new forklift, instead of a used one.
Let's go through them individually.
Much like automobiles, forklifts are constantly being updated and improved.
Whether that's improvements like integrated dashboards with on-board diagnostics, enhanced safety features, better emission controls or more comfortable operator compartments, engineers are constantly trying to make tow motors safer, more productive, and more ergonomic.
When going the new route, you have the advantage of getting these updated features as they come out. And that means making your operation run smoother, with less downtime and lower risk of operator injury.
If your operation has tall racking or takes place within confined spaces like semi-trailers and railroad cars, chances are you may need a non-standard mast.
Because some masts are simply harder to come across than others on the used market, the advantage of buying new is that you have more flexibility to choose exactly the mast size you need.
A frequently-overlooked but important detail are the transportation charges for forklifts. 
If buying new, you'll usually only be on the hook for local delivery charges. That's because new lifts, unless already in stock at the dealer, are shipped to the dealership for check-in as well as any aftermarket modifications required by the buyer.
Plus, if you have the capability, you can save even more money by coming to the dealership and picking the truck up yourself!
Whereas, if buying used from an online seller, you might get saddled with a huge shipping bill. We'll cover that in more detail in the "Buying a Used Forklift: The Disadvantages" section.
As previously mentioned, depending on the manufacturer, your new forklift will probably come with a warranty that lasts for 12 to 36 months, or up to 2,000 hours or so.
Compared to used forklifts, which either have 30 or 60-day warranties, or even no warranty at all, you'll come away with much greater peace of mind with a new forklift.
The logic is simple: A truck that's 5 years old with 5,000 hours on it is probably going to be worth more when traded in than a truck that is 10 years old with 10,000 hours on it.
The newer the forklift, the lower the hours, and the better shape it's in come trade-in time, the better value you'll get.
So if you plan to trade in your truck after only a couple of years, and you've bought new, you're going to get a higher trade-in price for it. Unless, of course, the truck is in extremely rough shape, on account of the environment it was in, poor maintenance, operator abuse, or any combination thereof.
Buying a New Forklift: The Disadvantages
Now that we've covered the plus-side of buying new, let's be thorough and go over the downsides.
We'll start with the obvious disadvantage.
As you've seen from the range of prices, if you choose to buy new, you're going to end up paying at least a few thousand dollars more than if you buy used.
But not only is the initial investment higher when buying new, the depreciation is steeper as well. Just like a new car, once the forklift "rolls off the lot," that depreciation clock starts ticking.
Granted, if you plan on keeping the forklift throughout its whole life, this may not be as big of a deal to you. And as mentioned, since new trucks will typically have a higher trade-in value at the end of their life, that may be all that matters to you.
Any which way you look at it, you're going to have a wait between the time you order your new truck, it leaves the factory, gets checked in by your local dealership, and is delivered to you.
That lead time can be as long as 18 weeks, depending on the manufacturer, the volume of orders received before yours, and the particular options you've chosen for your truck.
If you want a new forklift, you're generally going to need to wait a few months for it to be produced and delivered to you.
So, if you're in a hurry for a forklift, you might need to consider going used simply because you'll be able to get it faster. But if that's not an option, you may be able to strike an agreement with your dealership whereby you can get a rental truck at a discounted rate if you place an order for a new lift.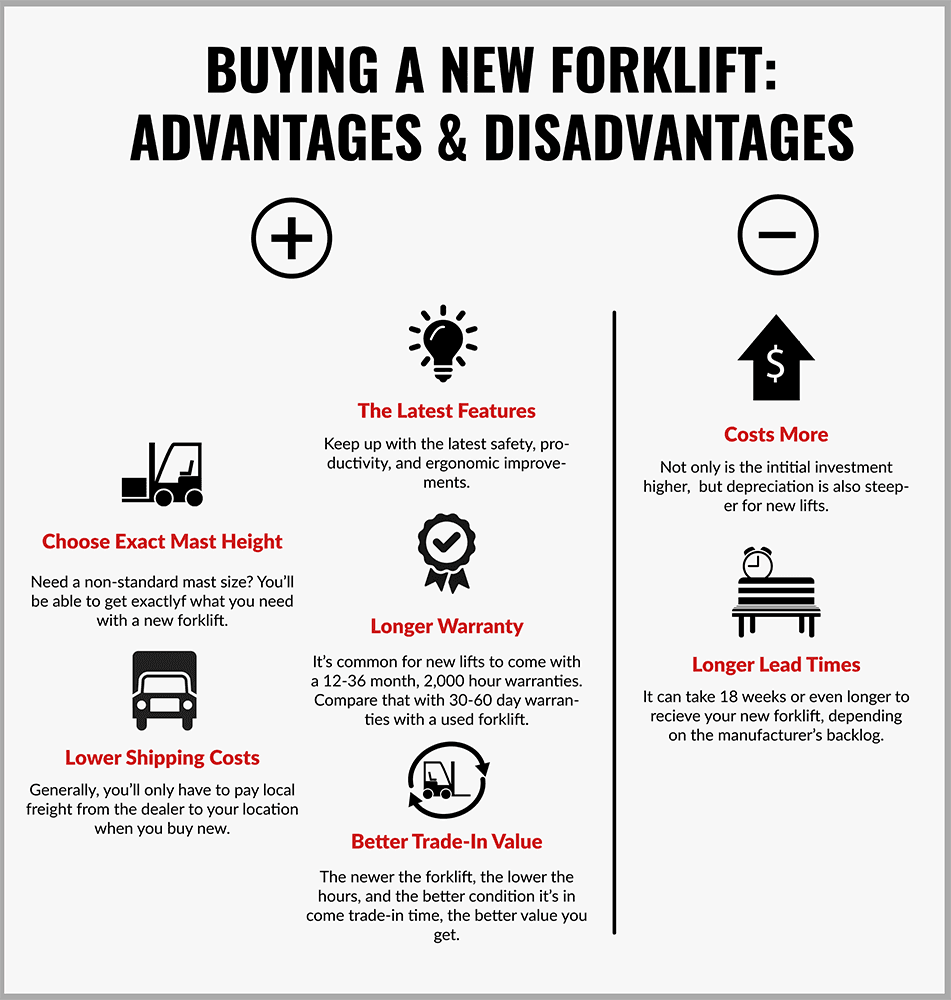 Buying a Used Forklift: The Advantages
Since we've covered the ups and downs of buying new, let's move on to used.
Lower overall initial cost
As you know, the price of a used forklift is almost universally lower than the price of a new forklift. But going beyond that, there are also some nice price breaks that you can get if you go the used route.
For one, if you're currently renting a forklift, like it, and want to buy it, you may be able to negotiate a price break based on the amount of rent you've already paid for the lift. This will, of course, depend on the dealership that you're renting it from, among other factors.
This one is easy: Used forklifts are typically cheaper than new forklifts.
And speaking of negotiation, remember that you have the opportunity to negotiate not only for a lower price on the used lift, but also for upgrades, like bigger forks, new tires, or perhaps even an upgraded attachment, like a side shifting fork positioner instead of a standard sideshifter.
Sometimes, you can get a used forklift within a matter of days, compared with months for new. And if you're currently renting, you could simply purchase the truck immediately and own it free and clear.
Otherwise, expect to wait anywhere from a few days to a month before you get your used lift.
Ultimately what the "get it faster" advantage means is that you can start being productive faster. The sooner you get the lift; the sooner you can put it to work. And the sooner you can put it to work, the faster you can recoup your initial investment.
Buying a Used Forklift: The Disadvantages
Okay, so you're up to speed on the upsides of buying used. 
But what about the downsides?
Let's go through them.
This one is obvious. The higher the hours on the truck, the more likely parts are to wear out, the more likely things are to go wrong, and the more expensive it will be to get the truck back up and running.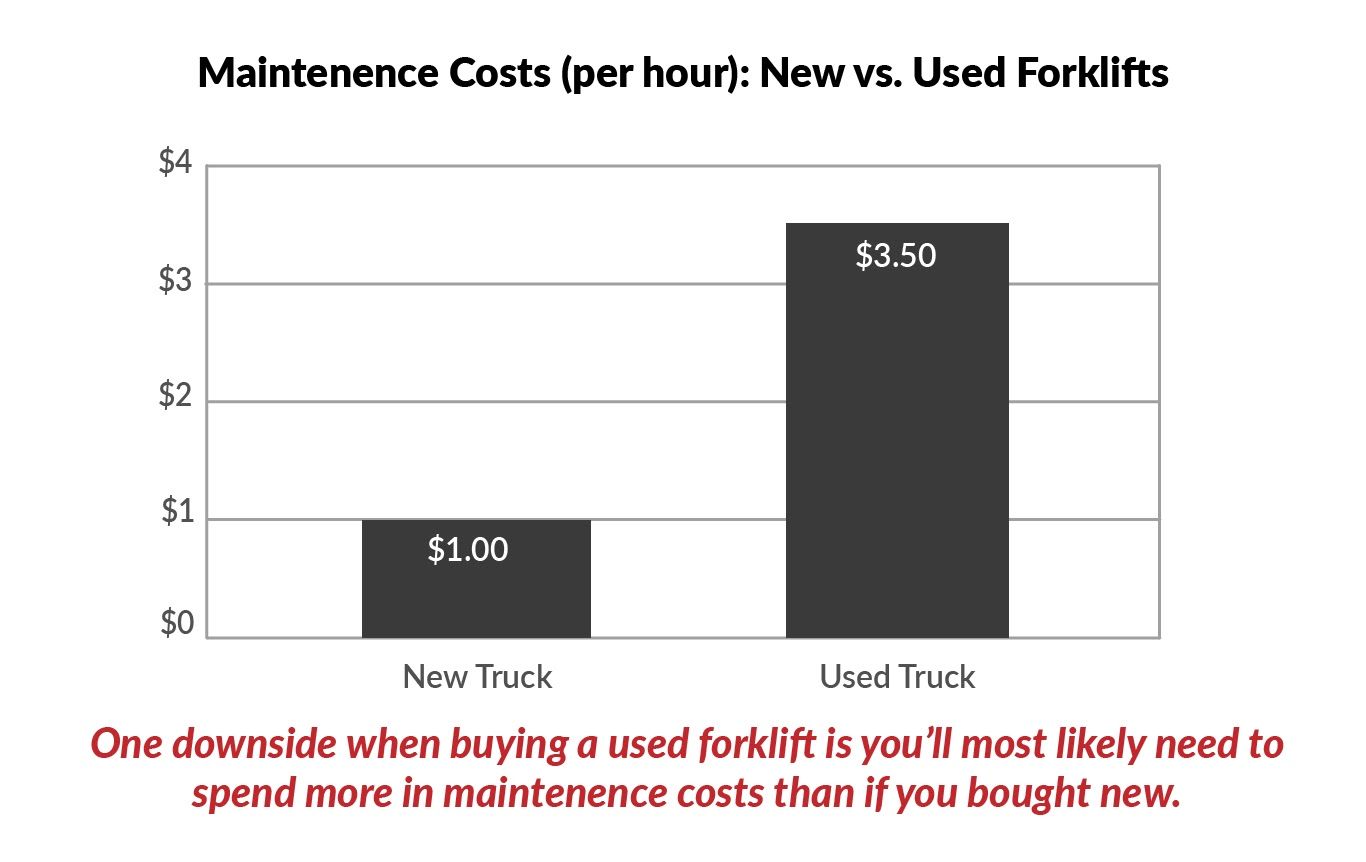 Granted, the forklift should be in proper working order if you bought it from a reputable seller. But the fact is that you simply never know what's going to go wrong - or when it will happen - once you've put the lift into operation.
Fewer choices of features
If you need a particular configuration, including certain features, your options will be limited if purchasing used.
Features like cabs with heat for outdoor usage, 4-way hydraulic valving to accommodate clamps and other specialized attachments, and LPS or EE-rated trucks for sensitive operations will be harder to find.
Less selection of certain types of models
As we've discussed in the "Supply & demand" section above, some forklifts are just plain harder to come by than others in the used market.
For instance, 15,500 lb. cushions are pretty tough to find. Manufacturers simply don't make them in as large of quantity as they do smaller, more common forklifts. The result is that fewer high-capacity trucks make it to the secondary market.
Likewise, high-capacity forklifts with tall masts are also difficult to find. These lifts are typically ordered new by customers in order to fit specialized applications. And the same is true of tall-mast reach trucks.
Other specialty forklifts, like articulating narrow aisle forklifts (Aisle Masters and Flexi's), and high-capacity multi-directional forklifts (Combilifts) are few and far between on the used side.
So, if you need these types of forklifts, you may end up having to bite the bullet and go new.
You won't always be able to find out the origin of the used forklift you've found. And that can be worrying for a number of reasons:
It may not have been taken care of in its previous application

It may have come from an abusive environment (chemical plants, concrete plants, food processing facilities, to name a few)

It could've been "serviced" by a less-than-thorough technician or company

If electric, the battery may not have been maintained properly
To minimize these risks, always ask for service records. And try to find out, if you can, where the forklift was used previously. If you find it was a rather rough operation, it might be best to pass.
Increased costs of shipping
So, you've found a great deal on Craigslist (or eBay, or Equipment Trader). But did you factor in shipping?
Shipping a forklift cross-country or even interstate can cost anywhere from $1,000 to $5,000 or more. And if the lift is oversized or especially heavy and requires special permits, the costs can be quite extraordinary. 
So, make sure to factor that additional cost into the sale if shopping online.
When browsing the online equipment sites, you won't often find any mention of a warranty. That's because it's much more expensive for a dealer to try to service a tow motor that's sold to a customer who's out of state.
Warranties for used equipment usually range from 30 to 60 days. Unless buying out of state, that is - sellers generally don't provide warranties in that case.
If you're working with a local dealer, you can expect a warranty of 30 to 60 days. That usually covers parts and labor. If you want or need a longer warranty, however, be prepared to spend more.
If you purchased a used forklift and put a ton of additional hours on it, chances are good you're only going to get a fraction of what you paid for it in trade-in value.
Here's a rough set of guidelines for typical trade-in values for well-used forklifts:
5,000 lb. capacity or less internal combustion forklifts will bring $800 to $2,000

5,000 lb. capacity or less electric forklifts are worth $1,000 to $1,500 (if the battery is included, which accounts for most of the value)

10,000 lb. capacity and up internal combustion forklifts can bring a couple thousand dollars

Scrap values for electric and internal combustion forklifts alike are based on weight, and raise and lower with the market price of steel - but you won't usually get more than a few hundred dollars
On the other hand, a forklift that was bought new, is only a couple of years old, and only has a couple thousand hours could fetch you up to two-thirds of the purchase price.
Greater difficulty getting parts
If you've bought an especially old forklift, or a one-off model, you might have a difficult time finding parts for it.
Keep in mind parts availability as you shop. Finding parts for some forklifts is harder (and more expensive) than others.
And if you do manage to find them, be prepared to spend extra to get them. That's both in terms of the parts themselves and in extra shipping costs, as sometimes the parts are only available overseas.
How to Choose Between New and Used
Alright, we're at the end of the road.
Let's quickly recap everything we've covered so far. You've learned:
The price ranges for new and used forklifts

What factors can raise or lower the prices of both new and used forklifts

Why price isn't the only factor you should consider when shopping for a forklift

The major advantages and disadvantages of buying new and used
Now it's time to put it all together and map out a decision-making process that'll help you make the right choice for your operation and budget.
To do that, we'll need to answer the following questions:  
What do you need for your operation? 

How long will a new or used forklift last? 

Does your choice make financial sense?
Let's get started.
The first step is, of course, to take into consideration your own operation and what type of forklift will work in it.
With that in mind, let's go through each question you'll need to answer.
Do you need a 3,000 lb. lift for light-duty in your warehouse? Or a monstrous 30,000 lb. diesel truck for heavy-duty work in a fabrication facility?
One of the first questions to answer when forklift shopping is: What lifting capacity do I need?
As previously mentioned, it's usually harder to find high-capacity trucks on the used market. Therefore, simple availability may narrow your options.
What mast size do you need for your application?
Some common mast sizes include:
131"

171"

189"

199"

200"

210"

240"
The "standard" size for a mast is 189". And finding that mast on a "standard capacity" used truck (3,000 lb. to 10,000 lb.), shouldn't be too hard either. But something like a 370" mast on a used reach truck, on the other hand, will be harder to find.
Do you plan on using the forklift for 4 hours or more per day? If so, that's considered "heavy use." And it means that you may want something newer (with less hours) in order to stand up to the extra usage.
If you elect to go the used route, remember that hours on a used forklift are relative to the capacity of the lift. In other words, the higher the capacity truck, the more significant higher hours are. 
For instance, 10,000 hours on a 15,500 lb. truck is much different than 10,000 hours on a 3,000 lb. electric 3-wheel. Whereas the electric can still potentially keep going - all things being equal - the 15,500 lb. forklift may well be near the end of its life.
All things considered, try - if you can - to limit your search to trucks at the 5,000-hour mark we previously discussed. That's typically when dealerships will convert their rentals to the used market, as it strikes a nice balance between the company getting their moneys' worth out of the lift while still leaving enough useful life left in it.
Consider the environment you'll be using the forklift in. 
Are there corrosive chemicals that it'll be in contact with regularly? Is there lots of dust and debris in your facility? If so, the next question is: Will a used lift be able to function well enough in that environment? 
If the answer to that last question is "no," it might be best to consider either a used truck with low hours on it instead of something near the end of its life. 
Conversely, you might opt to go with one that is at the end of its life, simply because the cost will be lower and it can more easily be treated as a "disposable" unit.
Will the forklift be working outside, in the elements? Is a cab required? 
If so, you'll need to try to find a truck with a cab that also meets your specifications. And that may reduce your options. 
The other route is to have your local dealership price out the cost to install an aftermarket cab on whichever forklift you choose. Then, take that cost and weigh it against the cost of a new lift with a factory-installed cab.
If you'll only be using the lift inside, there are a couple of things to consider as well. 
Do you have short doorways? How about narrow aisles? The answers to those questions can limit dimensions of the tow motor, thus paring down your choices.
If using inside, does the fuel type of the forklift make a difference in your operation?
Perhaps you work in a medical manufacturing facility or a food processing plant. In those cases, you'll likely need an electric forklift, which does not generate emissions. And just like that, your choice of options has narrowed.
What type of attachment do you need?
The type of attachment you may need for your lift is an important consideration before you buy.
As we've said, a sideshifter is typically a standard feature on most new and used trucks. As such, it shouldn't cost you any more. But do you need something more specialized, like a fork positioner, paper roll clamp, or single double attachment?
Knowing upfront the type of attachment you need will help you narrow down your choice of forklift.
If so, make sure that whatever truck you look for - new or used - has the proper hydraulic setup (i.e. hosing and control valve) to accommodate the attachment. Plumbing a forklift to accommodate an attachment it wasn't built to handle is very expensive ($4,000 or more, depending on the model and mast size).
Also, make sure that the capacity (and class size) of the attachment will work with the forklift you want. Remember: the capacity of your attachment will limit the capacity of your truck. For example, if your truck is rated to lift 10,000 lb., but your attachment is rated for 7,250 lb., the lower of the two (7,250 lb.) is your actual lifting capacity.
Batteries for new and used electric forklifts are treated a little differently.
For new electric forklifts, batteries are usually sold separate from the truck. The reason is that the major forklift manufacturers (Toyota, Hyster/Yale, Mitsubishi/Caterpillar, UniCarriers, etc.) don't actually make batteries. That is the domain of other manufacturers, like GNB, Hawker, Enersys, and the like. 
This ultimately means more choice of battery features and specs when you buy new. But the extra choices do come at a cost - expect to spend anywhere from $5,000 to $12,000 (or even more) for a new forklift battery.
But for used electric forklifts, often what happens is that the seller will include whatever battery they currently have in stock. So, that will limit your choice of things like year, manufacturer, configuration, etc. In other cases, a battery may not even be included with the sale.
Used electric forklifts may come with a less-than-stellar battery. In that case - and as with buying a new electric forklift - you might need to consider buying a new battery.
Thus, make sure to ask the seller if the truck you're looking at includes a battery.
Then, ask for the make and year of the battery. A battery should last roughly 5 years (if maintained and not used excessively).
Next, make sure to ask what capacity the battery tested out at. The dealer should offer a battery that is 80% or better. That equates to roughly 4 hours of usage before a charge is required.
If you feel that 4 hours run time isn't enough, or if the battery is pushing 4 or 5 years of age, or if the thought of gambling on a used battery just plain makes you queasy, it might be advisable to buy a new battery. 
See if the dealer will give you a deal on a new battery by subtracting the cost of the used battery from the sale. Or conversely, keep the battery as is but try to negotiate a lower price for the truck.
And if you're wondering, "what are some used forklift battery prices?" the answer is: it depends on the size of the truck, and thus the size of the battery needed. That being said, expect to spend anywhere between $1,000 and $5,000.
When shopping for electric forklifts, chargers are usually treated the same way as batteries are. That is, chargers for new trucks are sold separately. And chargers for used trucks are sometimes included, other times not.
You may be surprised to find out that not all sellers include chargers with electric forklifts. That's why you should always make sure to ask.
So, if buying a used lift, make sure to ask if a charger is included with the sale (if you need one). And keep in mind that specialty options, like opportunity chargers, multi-volt chargers, and 110-volt chargers are usually not an option on the used side - without paying extra.
A new charger can set you back $3,000 to $6,000. And a used one can range anywhere from a few hundred dollars to $1,500 or more.
How Long Will a New or Used Forklift Last?
In order to arrive confidently at your decision, you've also got to have an idea of how long you can expect a forklift - new or used - to last.
But if we get a little more specific, what we're really trying to determine is:
"Will the used forklift last me long enough to justify the price I pay for it? Or otherwise, am I better off spending more upfront and getting a new forklift that I'm all but guaranteed will last me for quite some time? Because ultimately, whatever lift truck allows me to get more work done with fewer repairs will help me to better justify the cost."
So, let's get to answering that question.
The 10,000-hour rule of thumb
With proper maintenance, the average forklift in the average operation should be able to last about 10,000 hours.
If you buy Toyota, simply because Toyota's are known to last longer, you may even be able to get 15,000 to 20,000 hours out of it. In fact, we've seen numerous LPG-powered Toyota forklifts with over 30,000 hours on them, and an electric Toyota with over 50,000 hours on it!
But of course, many factors come into play which can add to or subtract from those figures. Some of these factors we've touched on already, others not.
Either way, we'll explore the major ones next.
Electric forklifts last longer
New or used, an electric truck will almost always last longer than a new or used internal combustion truck. 
That's because there's usually less maintenance required with electrics, since there are less moving parts. The major concern with electrics, though, is eventually having to replace the battery, which as you know is not an inexpensive thing to do.
If you bought new, of course, this won't be a concern. But not so much if you bought used. 
Some applications are tougher than others on forklifts. If buying used, the operating environment the machine came from will play a big role in how long it will last.
Did the forklift come out of an abusive environment? Was it previously maintained properly? Did the dealer or individual you bought it from do a proper condition report and fix all needed repairs before you received it?
Just as the operating environment that the forklift came from matters, so too does the environment that the forklift will be going into.
If you plan to put the lift into use in an environment that is full of corrosion, dirt and debris, or excessive heat, cold, or moisture, you may have some longevity issues.
Each of those environmental factors can wreak havoc on sensitive components in the forklift, causing breakdowns and shortening its useful life.
Thus, any way that you can limit the amount of time or exposure that the lift has to these inclement conditions will help you make your investment last longer.
As mentioned, we define "heavy use" as 4 or more hours per day. And how much the tow motor is used has a major effect on how long it will last. 
If your operators are using the forklift for two shifts every day, it simply won't last as long as if they were only being used for 4 hours per day. That much is obvious.
Not only will operating a forklift multiple shifts per day increase wear and tear, it will also increase maintenance expenses.
Also, keep in mind that heavy use will necessitate more frequent - and thus more expensive - maintenance. And that can sink your ROI quickly.
Speaking of maintenance, can you commit to regularly maintaining the truck?
Things that we commonly see, like running the lift on worn tires, not doing thorough pre-trip inspections, not keeping the battery watered and charged, and ignoring small problems can all add up over time.
Skipping recommended repairs because they're costly is an easy temptation. But doing so will reduce the useful life, and thus investment on the forklift. Not to mention the possible safety implications, depending on the nature of the problems being ignored.
As mentioned, pre-trip inspections are crucial for catching small problems before they turn into bigger problems. But how about the way the lift is used during shifts?
Do your operators misuse the inching pedal? That can fry the transmission after a while, leading to an expensive repair.
Operator behavior can have a significant impact on how long your forklift will last.
Are collisions common? We find them to be a major source of concern, with damage to the structure of the truck, including the mast, drive axle, and steer axle being somewhat common and expensive repairs to make.
All in all, if you're not sure that your operators will take care of the forklift, you can assume that it simply isn't going to last as long as it otherwise could.
As we've mentioned, capacity does play a role in the useful life of a forklift. That's because higher-capacity tow motors typically don't last as long as lower capacity ones.
They're usually put to work in harder, more demanding applications. And repairs are more expensive on bigger forklifts. 
So the breakpoint at which it's too expensive to repair and would be cheaper to buy another lift comes sooner than with smaller lifts.
How long will YOUR forklift last?
Now that you understand the factors that determine how long a forklift can last, you need to consider your unique situation and environment. 
Ask yourself how much of an influence each of those factors will have on the forklift that you eventually put into your facility. Make sure to take some time to really consider them. 
And be honest with yourself as you do.
Expect worst-case scenarios. Because it's easy upfront to think the forklift will only be used in a clean environment, by careful operators, and with regular maintenance. But in real life, things tend to not work out so nicely.
And when in doubt, make sure to speak to a qualified professional at your local dealership. They'll be able to put a second set of eyes on your operation, make sure you've got all your bases covered, and help you determine what kind of service life you can realistically expect from your tow motor.
Once you have as clear an idea as possible about how abusive the environment is and realistically-speaking, how well the forklift will be cared for, you should also have a good idea of how long it might last.
And you can take that data and move on to the final step, which is to determine if your choice of forklift - new or used - makes financial sense.
Does it Make Financial Sense? How to Calculate the Economic Life of Your Forklift
So, now that you know the approximate length of time a forklift can last, you have most of what you need to make an informed decision. The last step is to determine the economic life of the forklift.
What does the "economic life" of a forklift mean?
The economic life of a forklift (or any asset for that matter) is the point at which maintenance of the truck becomes more expensive than replacing the truck.
And it's important to know the economic life because it gives you a proper financial perspective on your potential investment. You'll be able to use it to tell if it makes more financial sense to go the new or used route.
Here's how to do just that.
How to calculate the economic life of your forklift, using an example
Let's walk through an example. Once we finish the example, you'll understand how to use the specifics of your own situation to calculate this important number for yourself.
Say you find a used 5,000 lb. pneumatic forklift for sale. It's currently got 7,000 hours on it. And using what you've read in our post here, you feel it's a good price for the offer.
You've considered all the factors that go into new and used pricing, what the prices are, how long a forklift can last, and what the major advantages and disadvantages of buying new and used are. And you know that the upper limit for useful hours on a forklift is around 10,000 hours.
Using that information, you estimate that the operating conditions of your facility mean you'll probably not be able to get to 10,000 hours. Perhaps you feel confident, though, that you can get to 9,000 hours. That means you've got about 2,000 hours of useful life left on that truck.
Here's how you can take that information, and use it to determine the economic life of the forklift.
Estimate the number of hours per day you expect to use the forklift.

Estimate how many days per year the lift will be in operation.

Take the amount of hours you'll have on the forklift at the time of replacing it, less hour meter when purchased.
For our example, let's say it'll be used 4 hours per day, 5 days per week (260 days per year), and will have 9,000 hours on it at the end of its serving life.
Now, plug all those numbers into this free economic life calculator.
When we do, we get 1.9 years. That means, in just less than 2 years, we'll have reached the point at which buying a new forklift will be cheaper than repairing the current one.
Now, use your own situation, expected use, and choice of forklift - combined and tempered with what you've learned in this post - and put your numbers into the calculator. All this together will help you determine whether a buying new or used forklift makes more sense for your needs and budget.
And with that, we'll move to the final section of this post.
Where to Buy a Forklift: Your Options Explained
You've learned all the different pieces of the new/used-forklift-buying puzzle. Now you've got to decide: Where do I buy my next forklift?
Basically, your options for where to buy a forklift include:
Buying online from a website specializing in industrial equipment sales

Buying from individual companies (that no longer need their forklift)

Buying direct from a dealership
Let's go through each one.
Buying online from an equipment sales website
There are a lot of websites that offer this service, among them:
IronPlanet.com

LiftsToday.com

EquipmentTrader.com
Forklifts for sale on these sites often come from dealer stock. The dealer is simply leveraging the visibility of the site in order to get more eyeballs on their lift trucks. That, of course, increases the chances that they will be able to sell them.
The upside of buying online is the greater choice of trucks. That is, you have a choice of forklift not limited to just your local geographic area. So, if you need something specialized, you'll have a better chance finding it online.
But there are a couple of issues with buying from these websites:
You may not be familiar with the seller, especially if they're out of state

It's hard to get a good idea of the shape of the lift - you're relying on the pictures and videos (if even that)

Shipping can be expensive - especially if the company is located in a different state than you are
Buying from individual companies
The other option is buying locally - or online - from companies who are selling their lifts. 
Sometimes, a company goes out of business and needs to sell their trucks. Other times, companies that "liquidate" companies who've gone out of business will acquire forklifts they need to get rid of.
The upside is that you can find these trucks quite cheap. When companies or liquidators are selling, they simply want to get rid of the truck. And often, they're willing to let it go at a reduced price - or even a loss - just to get rid of it.
The downside of these kinds of sales is, again, you don't often know the quality of the lift truck. Most likely, the seller won't be able to provide any kind of service or operational history. Thus, you're taking a gamble when you buy this way.
Your last option is to buy from your local forklift dealer.
Now, being a forklift dealer ourselves, we admit that we're biased towards this avenue. But we feel that the benefits of doing so speak for themselves.
See the forklift in person
First of all, buying local means having the ability to actually see the forklift. You can arrange for pictures, videos, or to see the tow motor in person, for yourself. You can give it a test run, look it over, check all the operational features, and make sure that it will work for operation.
Better after-sales support
Another advantage of buying from a dealer is that you usually have much better after-sales support. If you experience an issue with the lift, and you've purchased a warranty, the dealer can send a technician to your location to inspect and repair it.
A further advantage is the reach of the dealership. If you're looking for a lift that they don't currently have in stock, the dealer can source the particular piece of equipment you're looking for from a variety of sources. Depending on what you want, they can bring the lift in, inspect it, fix any issues, and turn it around for you to purchase from them. 
That way, you don't have to bother with the logistics and negotiation headaches that can come when working with out-of-state sellers. You're essentially getting the positives of buying online without all the negatives.
One more advantage is that you can get the assistance of the sales team. This is a plus for you, since the salesperson can visit your facility, see where you plan to operate the lift, and make sure that the lift you want will actually work for what you want it to work for. 
Buying a forklift is an expensive decision - and one that involves a lot of different factors to consider. It is easy to overlook a minor detail upfront, and find out that the lift you've chosen won't work once it's delivered. Trained and experienced salespeople - the kind you'll find at a factory-authorized forklift dealership - can help you avoid these costly and frustrating issues.
The moral of the story? You have a number of options of where to buy a forklift. But we do feel that factory-authorized dealerships (like Conger) can be the easiest and most reassuring way to go about your purchase.
There you have it: A comprehensive guide to new and used forklift pricing. We hope you find the information helpful, so that you can decide on the right forklift for both your needs and budget.
Now, we'd like to hear from you.
What questions do you have about new and used forklifts?
Or maybe you've been burned on a "great deal" forklift before?
Either way, let us know in the comments below.